Wow, this feels like the biggest game system update since ever. It comes with a Simplified Chinese translation ( many thanks to deloquac! ) and so many other changes. Good timing to invite friends: Imagine Earth is 20% off during the steam summer sale.
Please check out our brand new Discord channel for Imagine Earth where we'd love to discuss the latest features with you. But first of all check out what we got for you this time:
Items for special buildings
New rare resource: Artifacts
Special abilities in research
Individual corporations
New faction: Nootilas
New faction: Privateers
New UI for build ring
Global warehouse storage
Translation for Simplified Chinese
New savegame menu
New frontier visualization
Fixes und Mission Improvements
Items for Special Buildings
You can now craft construction kits and landing controls for special buildings like the temple, pyramid, assimilator, Midras digger and the extractor and then place these units where and when ever you need them.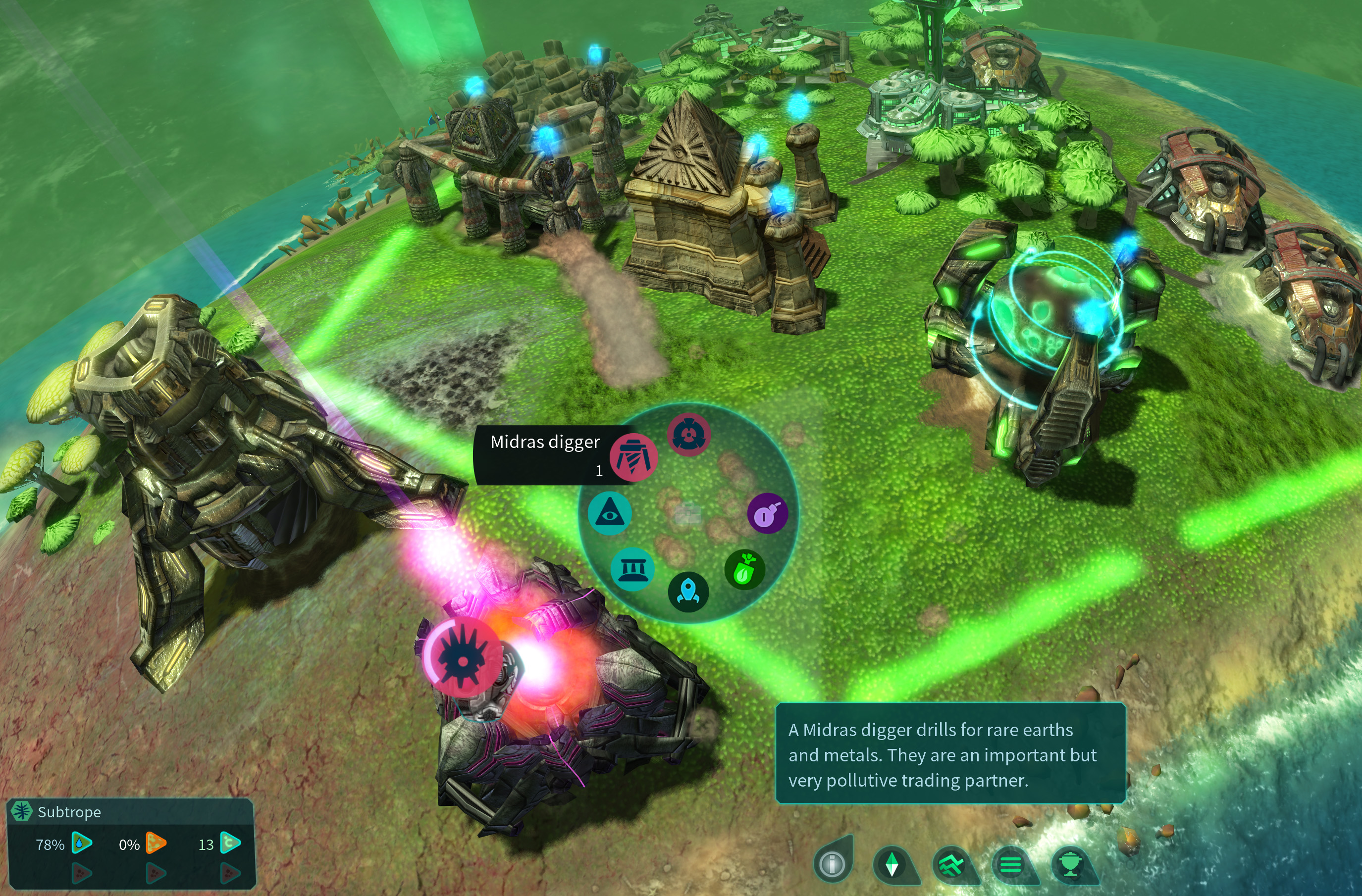 The extractor can only be build on an asteroid of course. Assimilator and digger can only be build outside the base. In rare cases traders will ship these items.
New Rare Resource: Artifacts
These artifacts are parts of ancient alien technology which enable you to use the Gaian energy force fields of the planet. They are used to craft all the special constructions mentioned above.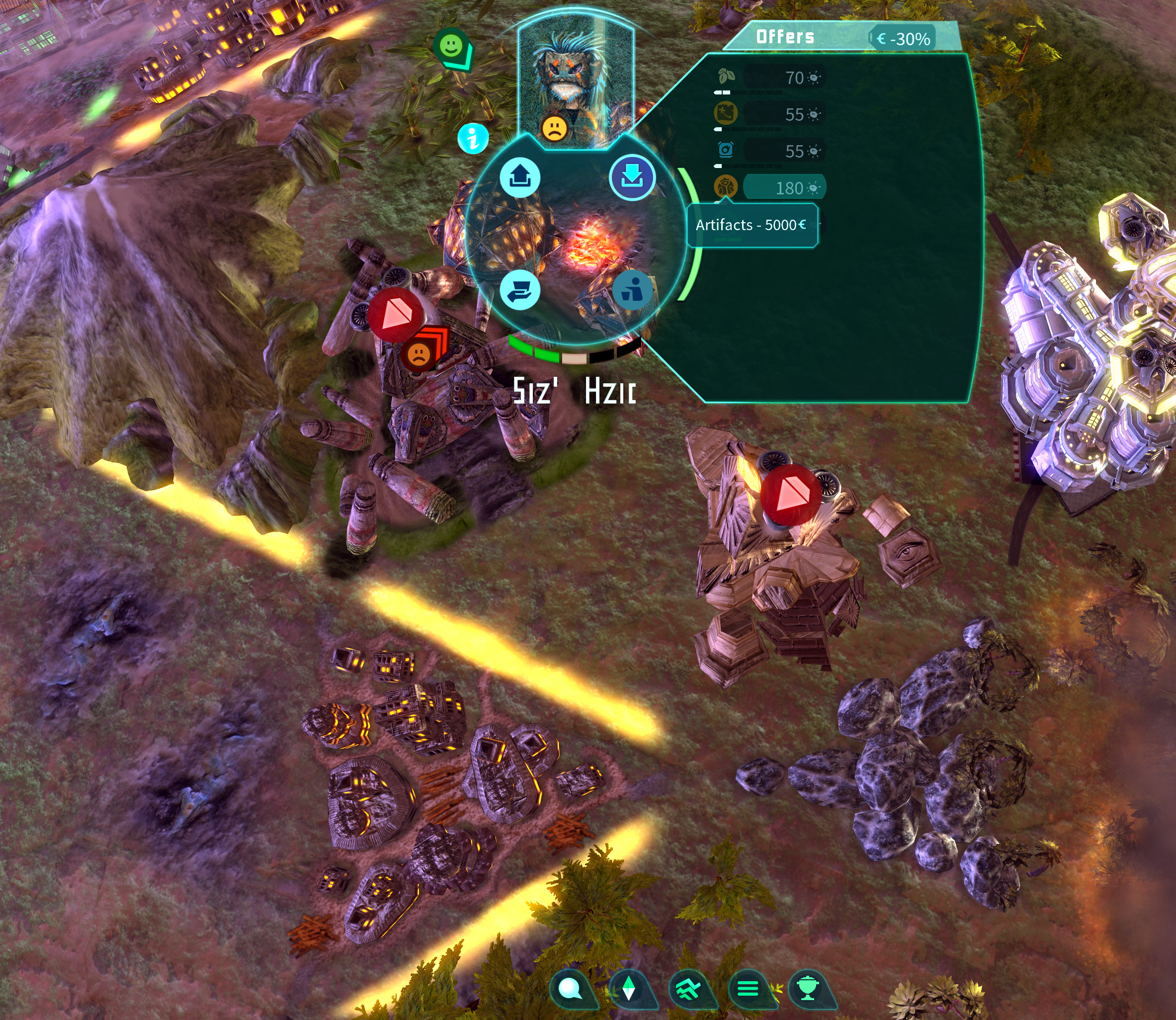 To gain artifacts you can now plunder temple ruins and wracked assimilators using drones. In addition they are produced by natives and can by bought from them (as long as you have a friendly relationship).
Special Abilities in Research
We have thrown the standard tools like claim and clean out of the research panel ( they're all available by default now ) to make place for eleven new research options. They are very powerful general improvements for your colony management system.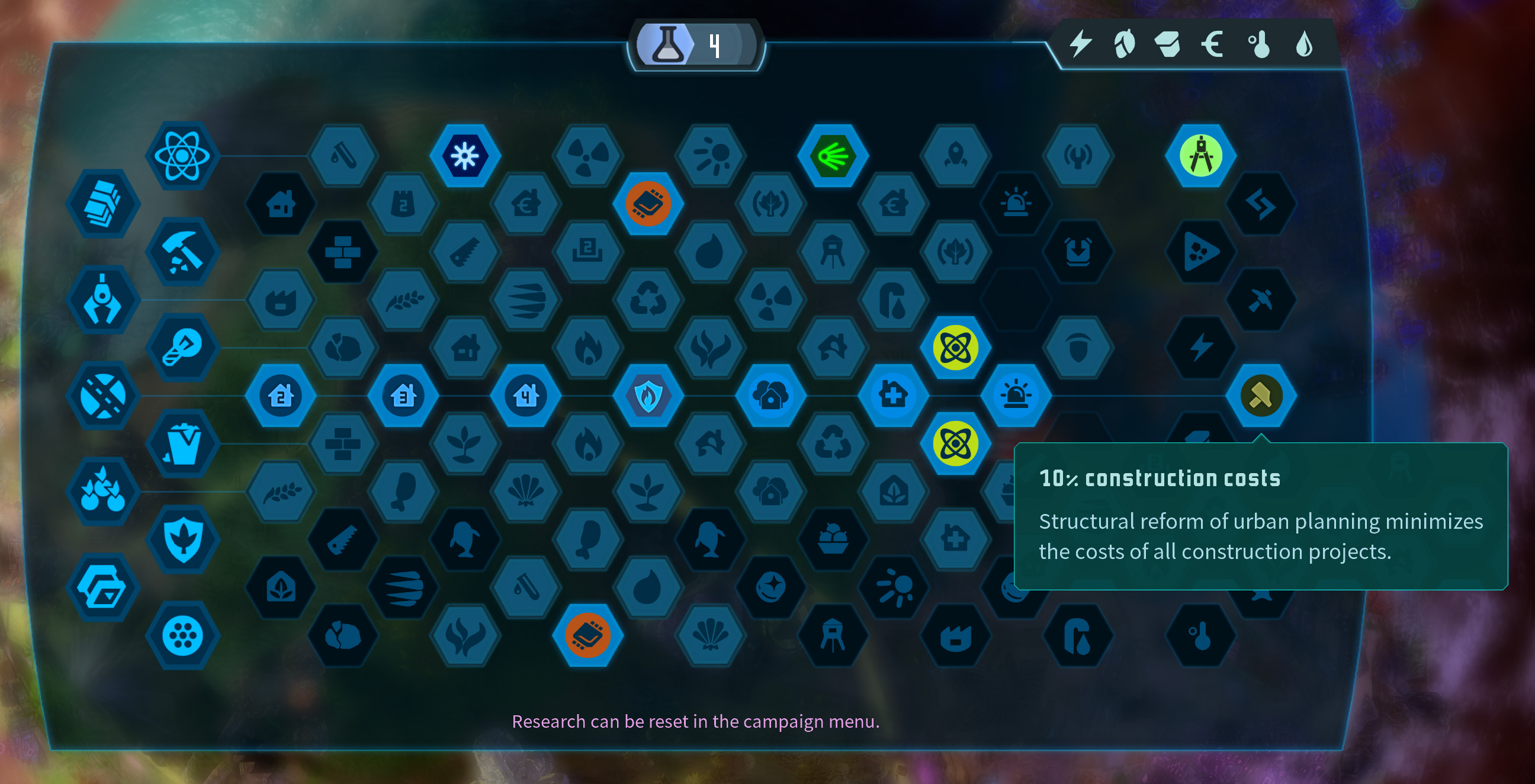 Options vary from "-10% construct costs" or "-20% percent emissions" to lower consumption of food or goods and so on. Only difficulty: You need to research a whole research sector line to unlock them on the end.
Individual Corporations
There are now eight different corporations in the game with individual setup of technologies, startup icons and special abilities. In free play and competition mode you can choose one of these parties. The unlocked technologies of each faction also includes research of the upgrades. So each company has its own preset of research points to start with in the research system.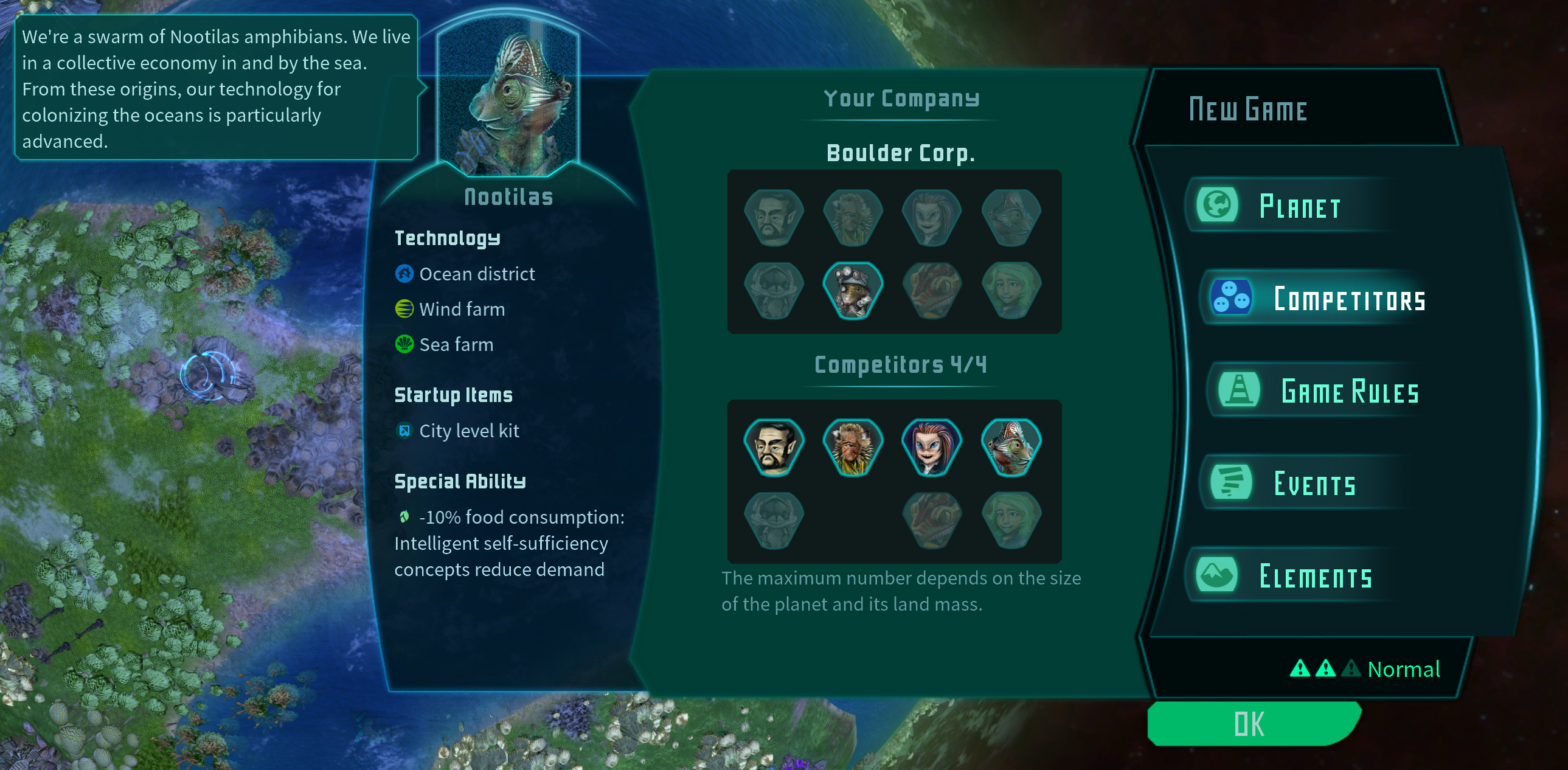 New Faction: Nootilas
Check out the two totally new factions to get a sense of how their individual possibilities are set up! We are actually still working on this and try to balance the factions. Please tell us what you experience throughout the gameplay ..
New Faction: Privateers
These corporations come with an individual background story as well which will be reflected in a kind of personal agenda as developments continues. This agenda will define how the company operates when they are you're AI controlled opponents if you chose them for a colonization match.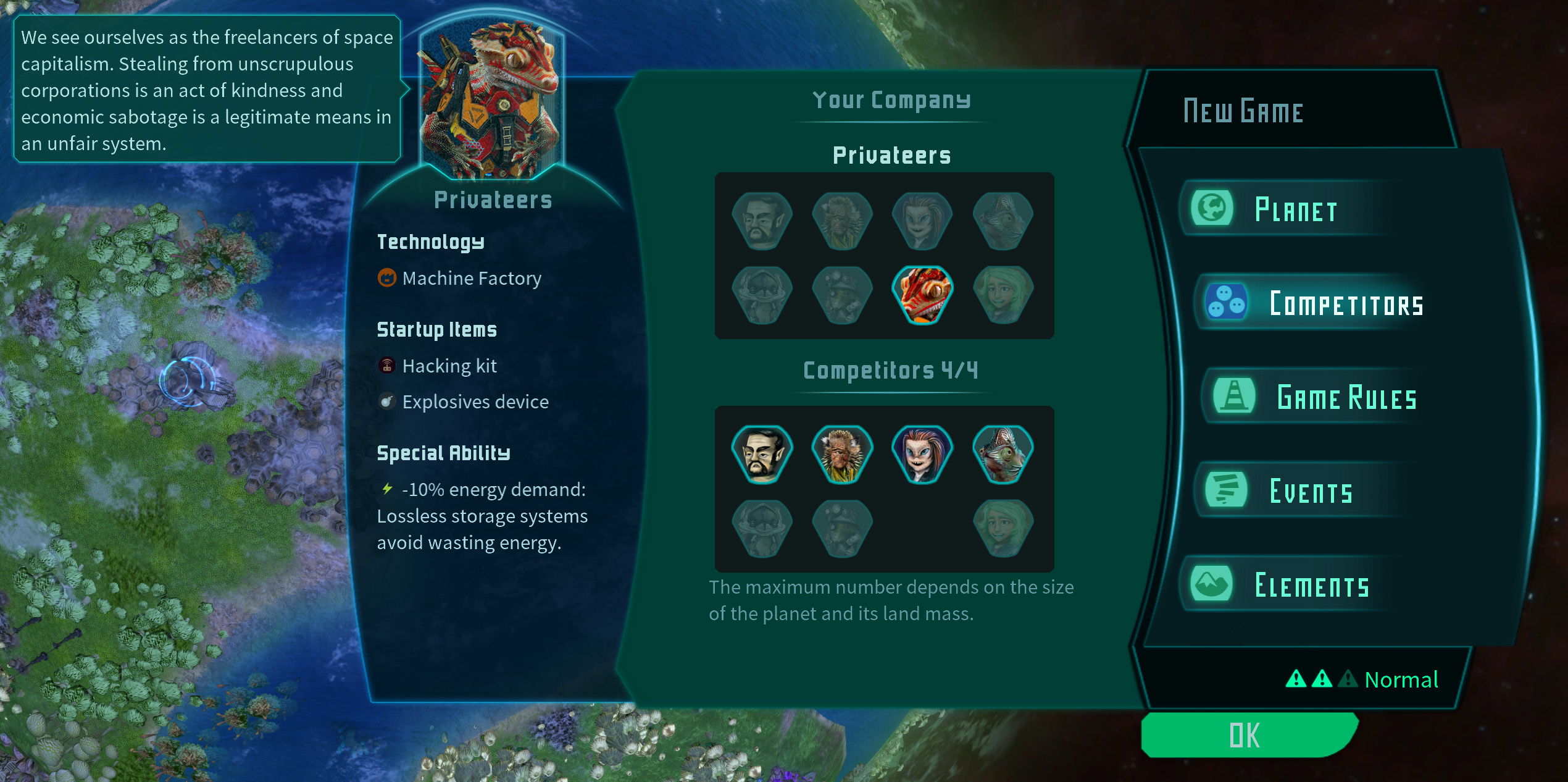 New Frontier Visualization
To get rid of these edgy triangle borders we made the visualization of the borders much more discreet and subtile.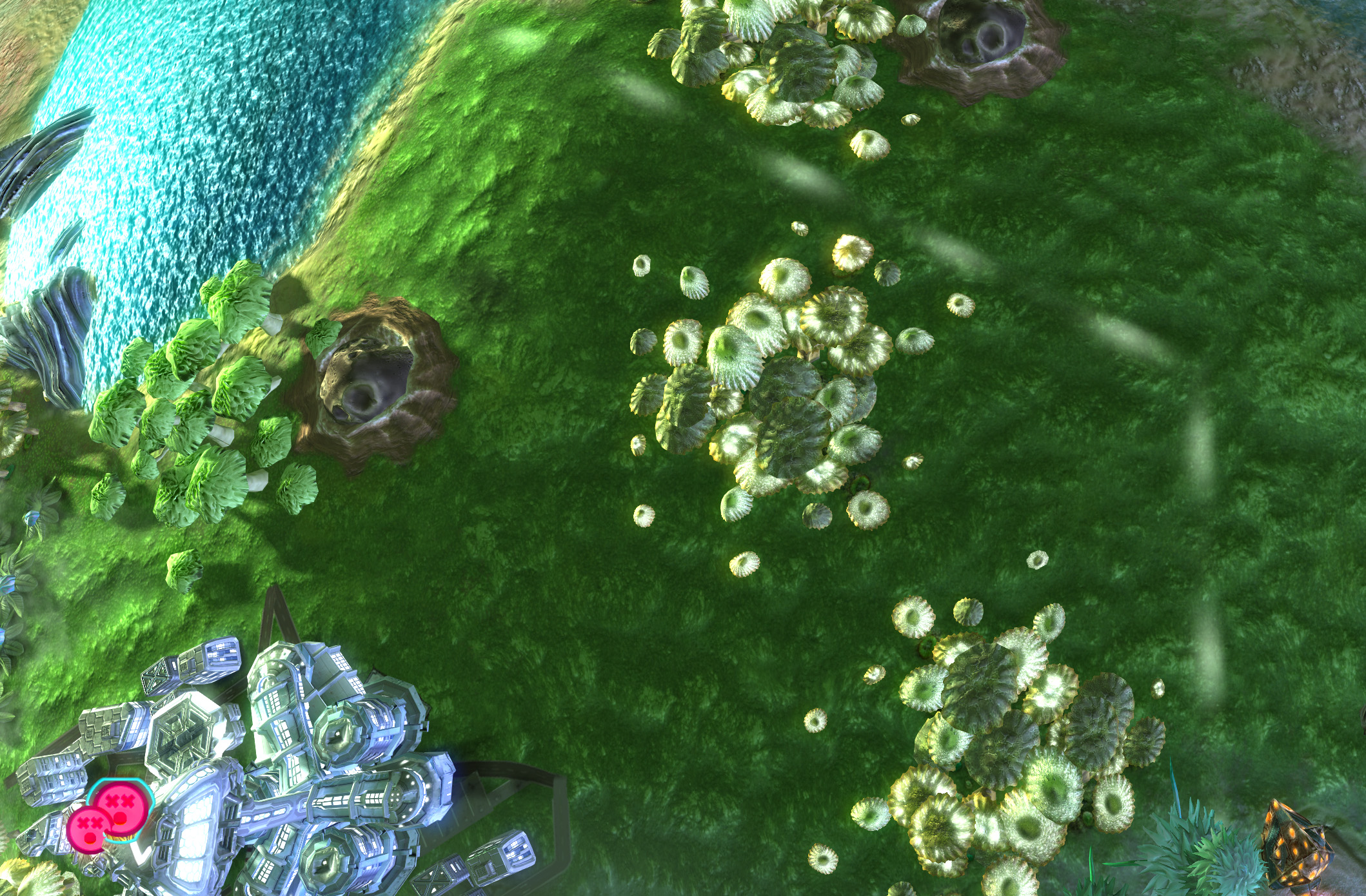 New UI for Build Ring
Last update we integrated infos about a working construct into its ring so you can understand in detail what influences production and mood.
Now we have also added all the general values and information on buildings into the build ring to make the different constructs comparable. In this context the descriptions of all buildings have been revised.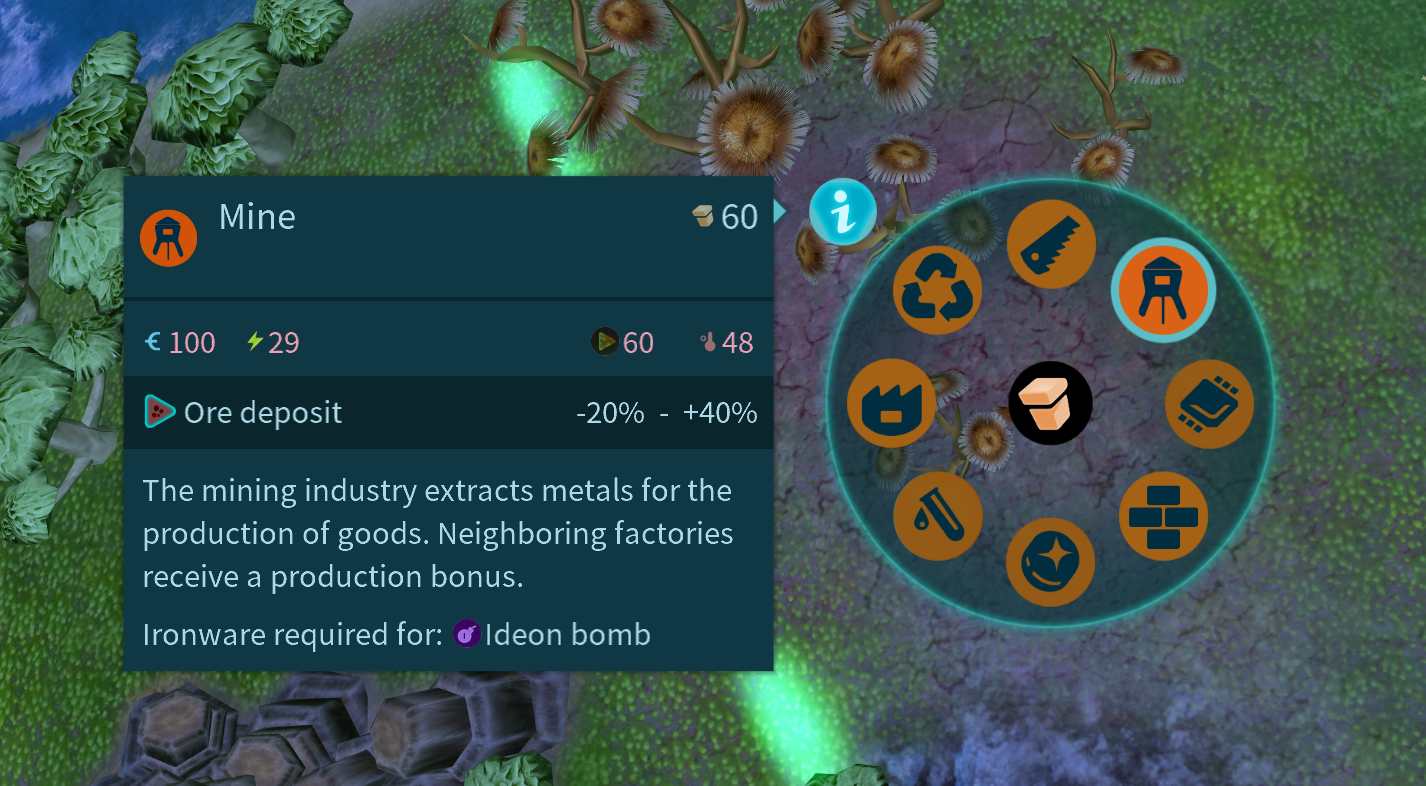 Global Warehouse Storage
There is a global storage system now. The resources will be shared between all your warehouses. Whenever a warehouse gets lost, broken or taken over by an opponent, your precious resources will be shipped to other facilities through an underground tunnel system to ensure nothing gets lost.
Each warehouse now also has two slots for energy, food and goods each by default.
Translation to Simplified Chinese
Well yeah, Imagine Earth is available in Simplified Chinese now. All of a sudden deloquac popped up with a complete translation of our game. Thank you so much deloquac, this really helps us out and we'll mention you in the games credits! If anyone of you could imagine pushing this project forward with a translation into your native language please let us know: info@imagineearth.info

New Savegame Menu
We have implemented a new approach to the savegame menu as well. You can now see more structured information and a small close up screenshot to pick the right savegame.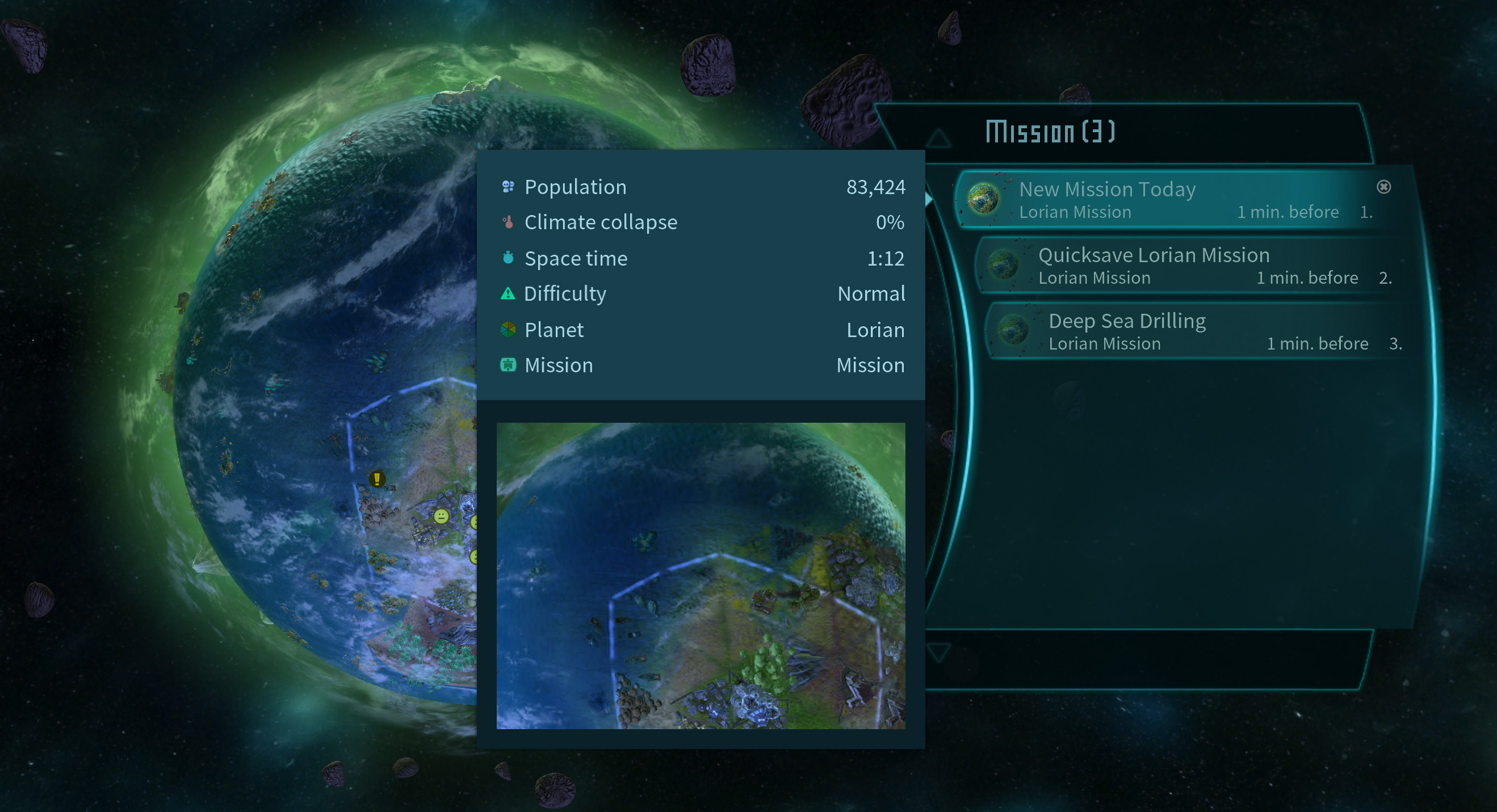 UI & Graphics
Load campaign planets directly from campaign screen
When placing a building show icons on fields that positively influence the building
Xrathul particle effects working again
Replaced € icon with the games currency symbol (
Show claim tool option on all unowned fields (as a hint that it exists)
Increase visibility of tooltip window arrow
Improved store visualization of not available resources and items
Improved speaker voice quality
Jump to other faction city by clicking the according goals panel icon (free play)
Rotate and tilt camera with pressed middle mouse or G key
Don't show harvest dust for forests before harvesting has started
Improved quality of small icons in the world and UI
New player profile icon
Construction site is no longer displayed with transparency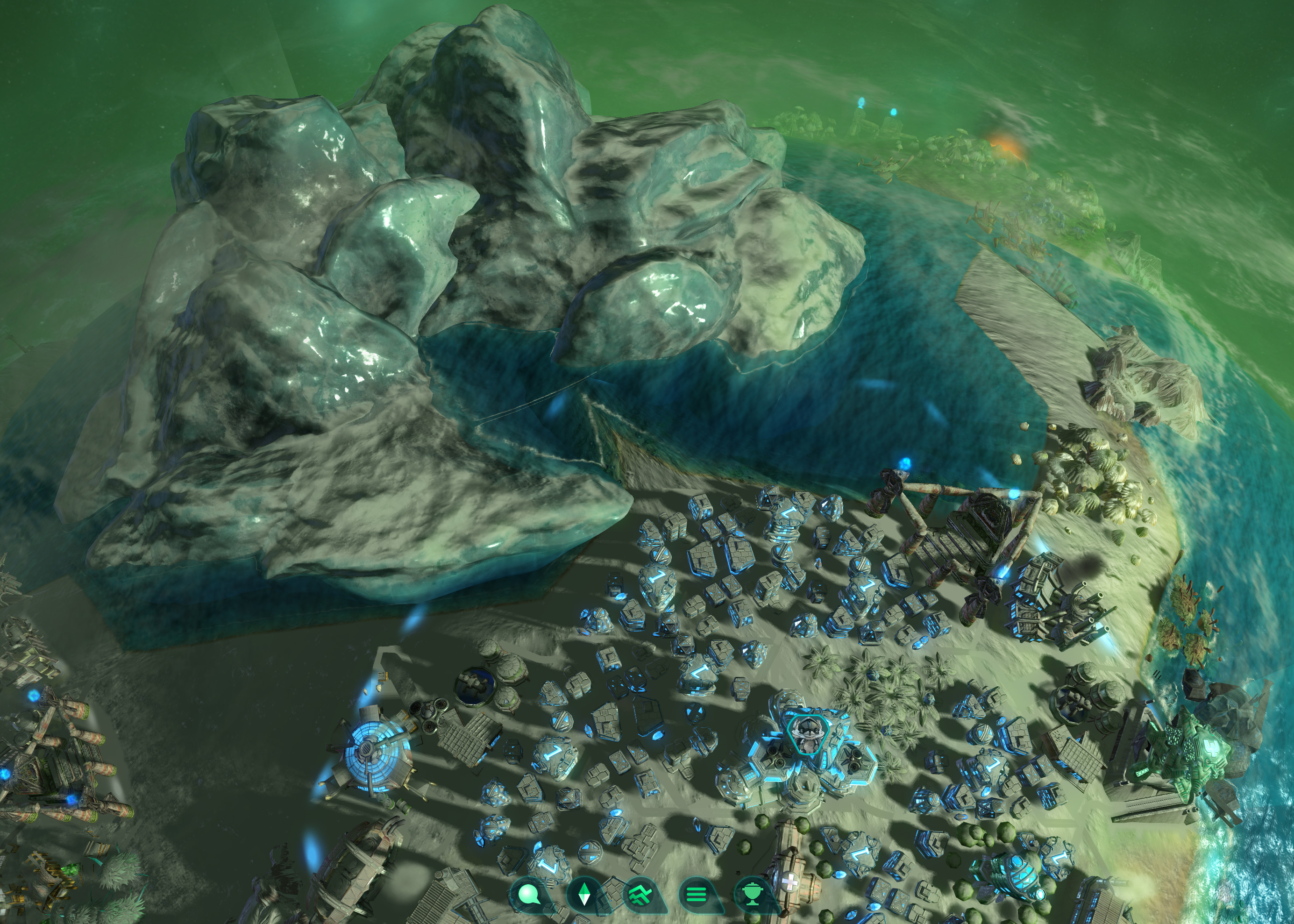 Fixes & Improvements
AI now uses cannons and ideon bomb to defend against assimilators
Population should always slowly grow when capacity is free and they aren't starving
Chemical plants are now available in all later campaign missions
Clean tool didn't show on the correct field when occupied by a multi-field building
Share trading should always be allowed
Increased likelyhood of incidents for intact buildings
Renamed Saw mill to Wood factory
Harvesting any forest type now will always "produce" timber
Forests shrink slower when negative factors reduce their maximum size
Temples charge with Gaia twice as fast
Lorian Mission
Oil pests now take much longer before they disperse
Reduced fertility and starting area
Increased likelyhood of meteor showes
Fixed unclear and wrong parts in space market quest
Rounos Mission
Joe race goal didn't properly show population count
Native quest explains in more details how treaties are working
Decreased Joe's expansion speed a bit
Magni Mission
Xrathul no longer leave without you doing anything. They no loner harvest rocks and forests and only take very few fossil resources.
You can use rare resources now to "donate" them to the Xrathul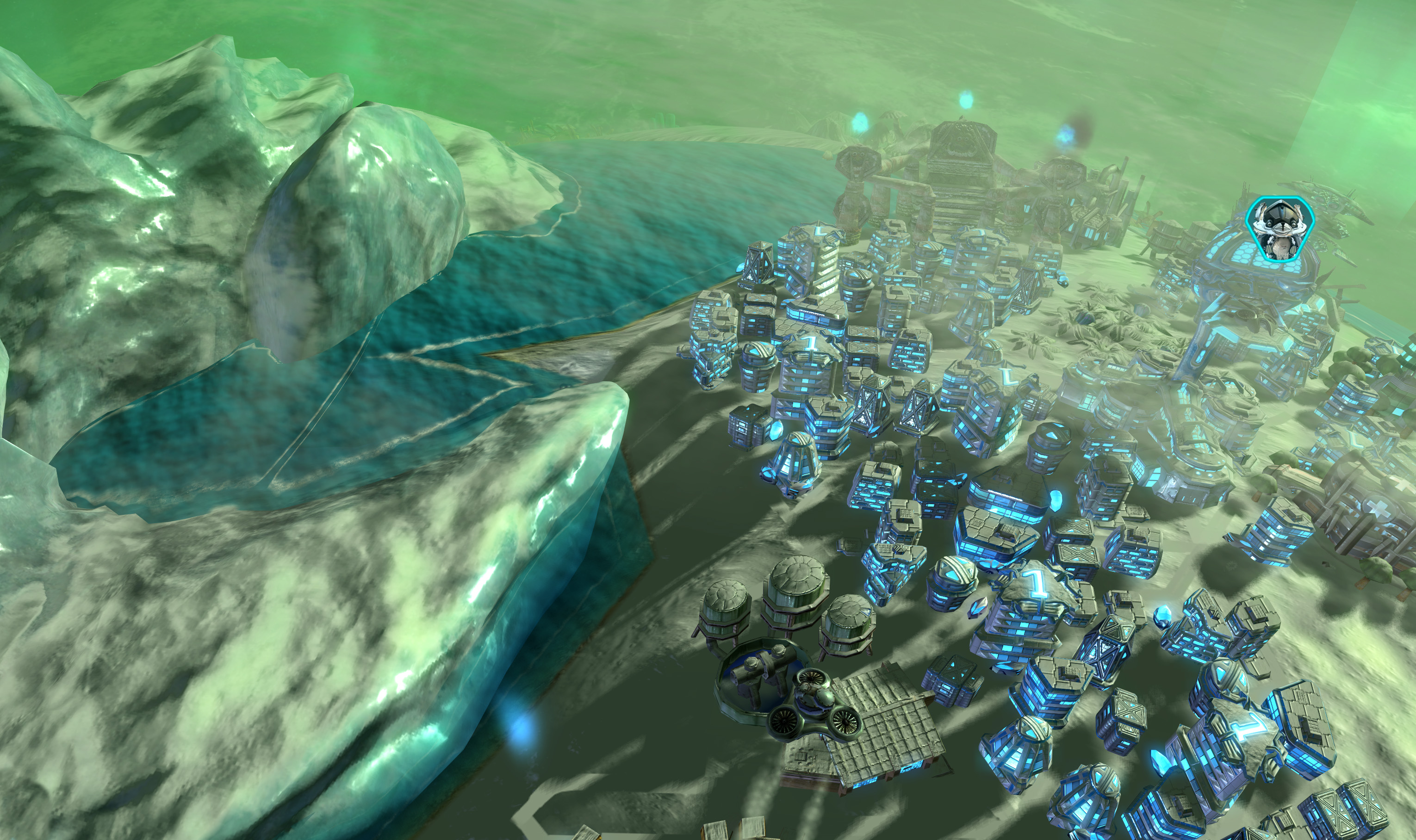 Thanks for your interest in the Imagine Earth Project, tell us what you think about the latest developments or get engaged in any of the games social platforms. For example you can engage in our new Imagine Earth wiki on gamepedia.
Twitter | Discord | Wiki | Newsletter | Website | Blog | Steam | Forum | Youtube | Facebook | Indie DB | RSS