The game is available in the following stores. You'll get the full game in Early Access on Steam right now and all future updates.

Buying directly from us saves a lot of sales fees. Thanks, you'll get a Steam-key anyways and payments are secured by Humble Widget!
The game is available in English, Deutsch, Español and Italiana
Imagine Earth has been awarded multiple times already!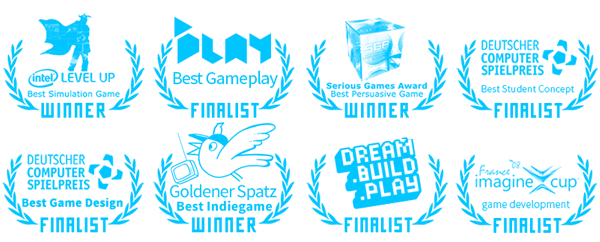 Game Features
Global 360° and real-time world experience.
Fully playable and story based campaign with 9 planets / missions.
Freeplay mode with a procedural planet generator for endless worlds and challenges.
Competition mode for matches against up to 4 AI corporations per planet.
Planet Editor for terraforming, building and customizing individual planets which can be saved and shared.
Development of over 30 colony buildings with individual upgrades.
Global simulation of local pollution and worldwide emissions.
Threats and disasters: Chemical spills, oil slicks, radioactive contamination, wild fires, tornadoes, volcanoes, dying forest and growing deserts, alien and robotic invaders, etc.
Melting polar caps will raise sea levels and flood your coasts in case of global warming.
Check all available features in the trailer or see more details and media below!