Videos
---
Screenshots
---
Artwork
---
Logos
---
The Story
From the unregulated Markets of the 21st century emerged powerful multinational corporations. Their unrestrained struggle for market shares led earth into exploitation. Only expansion to outer space could preserve the dogma of unlimited growth. The rival corporations hired settlers for a merciless rat race to space. The age of planetary colonization begins…
You are landing on the surface of an untouched planet. Your space capsule is the Seed of Civilization and will become the center of your spreading colony. When the outpost is profitably growing others will follow and more mega-cities can sprout out of the new grounds. Initiate an industrial revolution to develop new technologies and raise the progress in the brave new world.
As the local world manager you will soon get into conflicts between the corporations profit goals to utilize and exploit the planets resources and the need to preserve the environment for your civilization.
---
Gameplay
The main game dynamic is the expansion of cities in a balanced way. Therefore you need to secure the availability of the four major resources money, energy, food and goods. Avoid overproduction as well as shortage and your colony can grow and prosper. You can use up the planets natural resources or harvest them sustainably.
Expanding your colony rapidly is the best way to keep your job in the interstellar corporation. It's vital to earn further growth bonus, development aid and landing permissions.
You will get in conflict between the corporations profit goals and the need to preserve the conditions of living for your people. Do research for new energy sources and technologies to sustain a balance in greenhouse gas emissions or natural disasters will occur increasingly and climate change will threaten the life and business in your colonies or might even end it all…
---
Features
Play on a globe instead of a map
Campaign with 5 missions and planets introduces into the gameplay
Goals guide you through the expansion of your colony
Development of over 30 colony buildings with individual upgrades
Global simulation of local pollution and worldwide emissions
Disasters: Chemical spills, oil slicks, radioactive contamination, wild fires, tornadoes, volcanoes, dying forest and growing deserts
Melting polar caps will raise sea levels and flood your coasts in case of global warming
Sandbox mode to generate and edit your own planets
---
Press
---
Awards and Events
Deutscher Computerspielpreis 2015 – Finalist in "Best Game Design", Berlin
Intel Level Up Online Award 2012 – Winner in "Best Simulation"
Microsoft Dream Build Play Online Contest 2012 – Finalist in Xbox 360 Development
Deutscher Computerspielpreis 2010 – Finalist in "Best Student Concept", Berlin
European Games Award 2010 – Finalist in "Gamesload Newcomer Award", Cologne
Serious Games Award 2009 – Winner in "Best Persuasive Game", CeBIT, Hannover
E.I.G.A 2009 – Finalist in "Innovative Game Design", Frankfurt
Imagine Cup 08 – Finalist in "Game Development"  and featured presentation in the Caroussel de Louvre, Paris, France
---
The Serious Brothers Studio
Detailed information on the company and employers (german)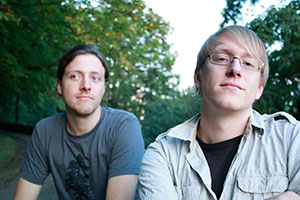 The core idea, concept and simulation of the game are created by these two guys and every detail is subject to intense discussion between them. But in such a small team as "Serious Brothers" everyone has multiple objectives to take care of. Jens is modeling 3d objects, creating the interface graphics and any other artwork but he is also writing the story and producing videos and trailers. Martin is beyond his programming activities in charge for project structure, management, organisation and blogging.
Martin Wahnschaffe (left) – programming, code, concept
"I'm a programmer and game mechanic enthusiast ever since. This combines perfectly with my university knowledge and several years of working in the software industry as a software designer and project manager. I am well prepared and extremely eager to make Imagine Earth a wounderful game about planetary colonization!"
Jens Isensee (right) – design, models, interface, graphics, story
"I'm a multimedia designer and artist. Besides Imagine Earth as a key project I work on interactive video installations. These are often virtual reality environments based on game engines or sculptured fragile paper craft objects with technical parts and modified hardware in it. I always loved 3d modeling and level design. Check out various interactive projects  on my website…"
Detailed information on the company and employers (german)
---
History
of the Imagine Earth Project

The company was founded by its two members Martin Wahnschaffe and Jens Isensee in 2014 in Braunschweig, Germany. They work together on this independent game production for several years now. It has started as a student project long ago and evolved over the years into a more serious working relationship and even deeper friendship. After being a side project for the time of our studies and the beginning of working life it became more serious. We started to focus on this and future projects.
The growing ambitions and complexity of the game project were already accompanied by two prices. The Serious Games Award 2009 and Intel Level Up Award 2012 for the best simulation game demo and several nominations as motivating events that made us carry on. And so did our idealism about this environmental-minded game.
Special Thanks
Special thanks to all who helped us! For example Stefan Ewald – title music  |  Philipp Preuss – trailer music 2013  |  Celi – voice acting trailer 2013 | Timo Schramm – music for Tuto | Terence Goodchild – music for Joma |  Ed Curtis – english translation  |  Florian Mätschke – started the project with us once.
---
Contact
Get in touch personally!
Just drop us a mail at to info@imagineearth.info
and we will get back to you as soon as possible!