We present you the greater changes of the April release #32 in a short video on YT. It's definitely an experiment we wanted to try. Hope you like it:
TL;DR
The sea farm is a new food producing building.
Forest, rocks and rare resources are now harvested with drones that are stationed at your warehouses.
Researched items can now be reset in the campaign screen.
We have updated the official trailer. Check it out here.
Midras and natives now trade with gold instead of money.
Land claiming and tower claim visualizations have been optimized.
Day & night lighting improved.
Fixed a lot of small problems and balancing stuff in the Tuto, Magni and Bora missions
Sea Farms
Building of the month is the new construct called sea farm. It can be build on coast fields and sea fields adjacent to land (called "near-shore"). It works as port logistics for offshore fishing boats and the building can also breed shellfish to intensify food production for higher pollution values. The smokehouse upgrades makes its food production more durable, but comes with higher running costs.

Harvest Drones
Little drones that fly around and actually harvest the stuff you ordered to crop or gather. They are stationed on the warehouse and limit the number of crop actions that you can make. But most of all they are pretty good looking and the AI uses them too.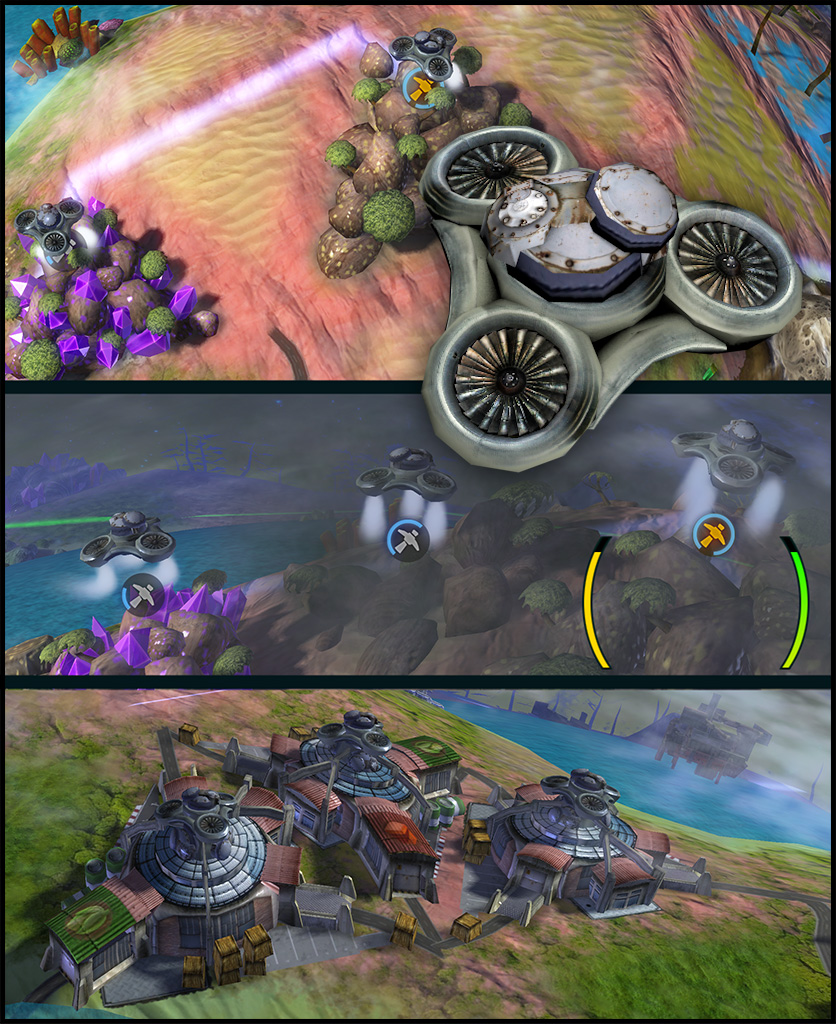 Reset Research
You can now reset your research decisions and strategy in the campaign screen.

New Official Trailer
The Trailer was reworked to show some more actual footage from the game. It has grown old as i had no time to change the video material for nearly two years. Really ;D Check it out here.
New Construction Site
The construction site model is more advanced now. In the next version we want to add individual build and landing animations, also for space ships to make everything a bit more cinematic…

Tower Range Visualization Changed
From now on if you construct, deconstruct or relocate towers you see a red visualization for the land you loose and blue marks on the field you claim. Expensive Upgrades will be relocated as well.
Planet Day & Night Lighting
The Planet was always too dark and contrast less on the night side. With the new moon light night shifts now have become much easier.

Gold Trading
Some NPCs like Natives & Midras will no longer trade for the universal currency of the galaxy. They stick to the gold standard and you can buy gold from merchants or dig it out yourself. These guys will also pay you for certain resources they're interested in with gold, so you can gather exchange values this way as well.

Special Upgrade Items in the Shop
Laser, Pulse & Shield Upgrades Items can now be bought from traders. This is especially helpful in the Lorian and Magni missions. So if you do not research you can still defend yourself against alien threats and stuff.
Land Claims Repriced
This tool just got more cost intensive as well. It's price depends on the distance to the outer radius of your city center. This means the price gets higher the farer away you claim land from your city.

Mission Improvements
Excessive bugfixes and roundups for the missions on Tuto, Magni and Bora.
Other stuff
Bookmark panel shows twisters and Xrathul harvesters
Several editor fixes
Improved animation quality for drones
Fixed game-speed dependent particle generation
Improved city level up animation
Reduced forest's sensitivity to temperature and fertility
Renamed meteoroid to asteroid to better reflect size relations and impact
Cursor shows progress ring when tooltips are coming up
Fixed sandbox menu
Improved hyperspace gate menu