<<< Crowdfunding Now!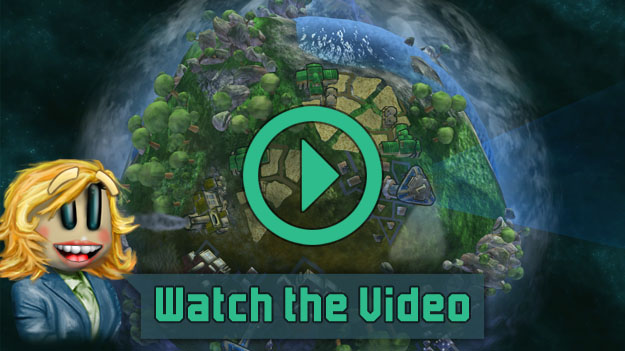 Hey Guys! It's crowdfunding time on indiegogo.com. We are trying to raise some money for the last period of development which is considered to be done by the end of 2014! We are looking for people who are interested in testing and balancing features with us and will offer Early Access on Steam and Desura.
So you can continue playing with your scores, achievements and unlocked technologies from the demo. Additional game modes and the next planet will be playable in Early Access right after the funding is complete. And after that you'll get instant updates of the finished episodes and features… Thanks for your interest and support!
"Casual simulation does sound like a rather obvious contradiction in terms, but indie developers Serious Brothers seem to have somehow made it happen."
– Gnome, Indiegames.com
Planetary Colonization
Imagine Earth is a simulation game with strategy and puzzle elements that is all about planetary colonization. Various planets are waiting to be explored and populated by you. Will you lead your colony into perfection or desolation?

Brave New Worlds
Your job as a colony manager is to build great cities and to provide supplies for your growing population by building power plants, farms and factories. It is your task to develop tech upgrades to cover the needs of your cities. Exploring the balance between growth and sustainability is the final challenge for every civilization.

The final Challenge
You will soon encounter conflict between the profit goals of interstellar corporations and the need to preserve the living conditions for your people. You must then research for new energy sources and sustainable production lines to avoid the global climate collapse of your new home worlds.

Features
6 planets of different style and increasing magnitude
Rotate, view and build on the whole planet
A motivating bonus goal system drives you into expansion
30 individual constructs with more than 60 upgrades
Disasters: chemical spills, oil slicks, radioactive contamination, wild fires, tornados, dying forest and growing deserts will increase with the emissions of your colony.
Melting polar caps will raise the sea level and flood your coasts in process of global warming.
"Oh, and don't let the cutesy graphics and streamlined interface fool you; Imagine Earth can be a most demanding beast."
– Gnome, Indiegames.com