In the first update for Imagine Earth in March you'll find many optimizations for UI and AI that lay ground for innovative new game play features consider the next update to revolutionize core game play at several odds and ends.
Extended research menu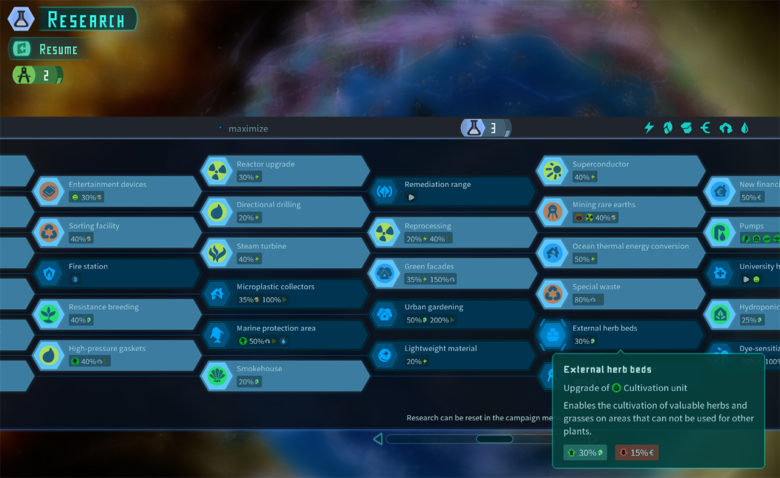 The research menu has a new optional viewing mode where all details are presented directly on screen instead of as tool-tips. For now the compact view still stays the default view, so you have a perfect overview for all your research processes.

We also optimized the filters in the research menu. You can highlight research options according to what their primary effect is. That makes it easy to adjust your research strategy to suit your specific needs.
Upgrades in build menu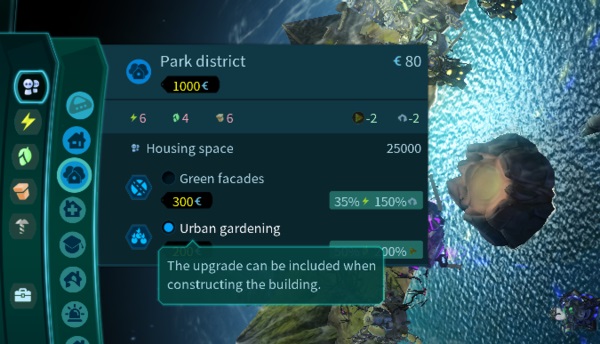 The building descriptions in the build menu now also contain all upgrades of the building and their potential pros and cons.
Upgrades that have already been researched can be activated here to be automatically build together with the building.

Visualization of competitors

We made the visualization of competitors more compact and consistent to the rest of the user interface. Instant intuitive visibility for the ranking, diplomatic status and victory points. More over you see which incidents or catastrophes are impacting their colonies and also the resulting share price drops.
Competition rating UI reworked
We reworked the competition ratings table. The x-axis now has the different types of colony points needed to win the competition. We added more captions and explanation texts to clarify all aspects.
Faction messages in tool ring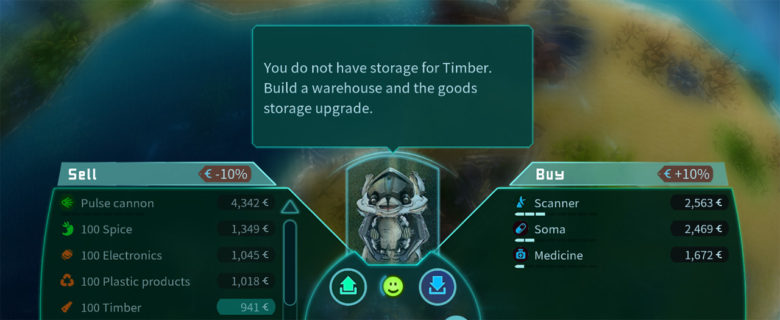 When accessing a city center other factions are now talking to you directly – we are working on making this communication as personal as possible…
Factions have individual agendas

Factions do now have individual agendas that add character and individual tactics to the 8 different corporations you can play in competition and freeplay mode.
Cooperative: Cooperative diplomatic sentiment.
Aggressive: Aggressive diplomatic sentiment. Sabotages other colonies.
Sustainable: Preserves the environment and prefers buildings with low emissions.
Exploitative: Tries to get as many fossil and rare resources as possible. Does not care about environmental impacts.
Expansive: Trying to own as much territory as possible. Does not like it when someone takes over territory.
Trader: Focuses on trade. Likes to sell resources and items.
Gaian: Tries to get as many temples as possible and generate Gaia.
Oceanist: Prefers to build the colony on the coast and the sea.
Scientist: Researches as many technologies as possible.
Water foam at the coast line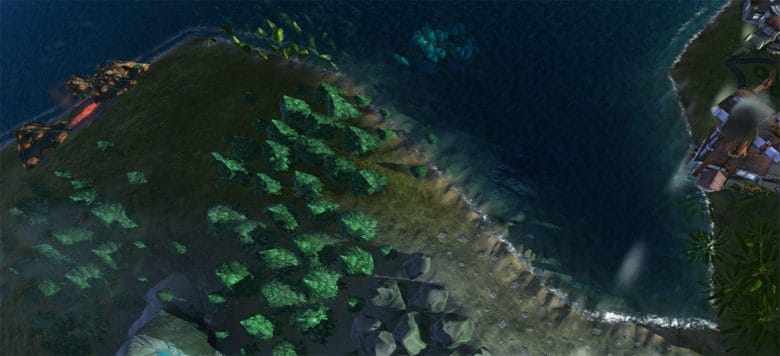 A decent foam line at the coast makes it easier to identify the exact sea level and whether fields are land, coast or ocean. This is an addition to the waves the are rolling in and breaking.
Building type visualization

There are several options in the build menu that help to visualize certain states and objects in the world. For example it can colorize buildings by their type to provide a better overview.
Additional changes & fixes
You can now sell incomplete packages of rare resource to free up space in the warehouses.
New city center sounds!
Workshop menu got a face lift.
Build menu buttons reworked.
All campaign planets have decoration and environment objects like mountains suitable to their planet theme now
Big Illuminati Pyramids can't burn anymore
Unified calculation of field and construct values to improve AI decisions and simulation speed
If you loose competition you won't get spammed by the professor commenting on that anymore .
Build menu: you can now have a certain category activated that stays open also when you hover another for short operations. So you can keep your eye on your inventory or the forces you have ready.
AI in sandbox is no longer saved and transferred into created planets.
Bora: AI allies may no longer build their second colony next to the great pyramids to prevent the mission plot from getting stuck.
Fixed problem with multi-use of temple powers
Fixed assimilator drone explosions