Dear Colony Managers, in this update we increase the visual and gameplay diversity of our planets with the themes Jungle, Terran, Swamp, Barren, Volcanic and Frozen. Also we dedicated a lot of our time into making the Tuto and Joma mission a better experience. Read on to find out what else has changed.
Also we are the EGX in Berlin this weekend presenting Imagine Earth in hall 7 at Station Berlin, if you happen to be there come over! In addition we start a week long deal on steam with 20% off beginning on monday…

TL;DR
Rocks, Asteroids & Scanner
Gaia Forces in Build Ring
Drone Priorities
Planet Themes
Storytelling
Translation
UI & Graphics
Money Balancing

Rocks, Asteroids & Scanner
Asteroids now can contain all types of rare resources. They look different and when you decide to throw one of these asteroids against an opponent you might accidentally send him a big present full of ideon or lithium.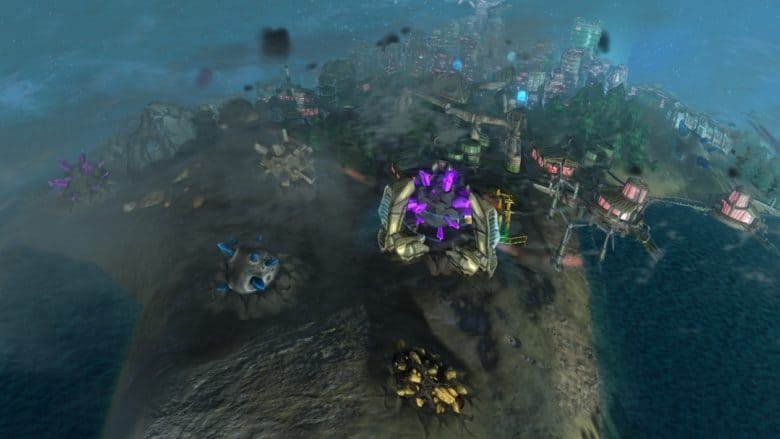 Scanners are having an increased scan radius and an increased value in gameplay. You will now have to scan all rocks to find out if there's any gold, titanium, lithium or ideon hidden in them.
Rare resources are automatically detected when you take over the field into your build radius. The amount of rare resources on all planets has been raised in general.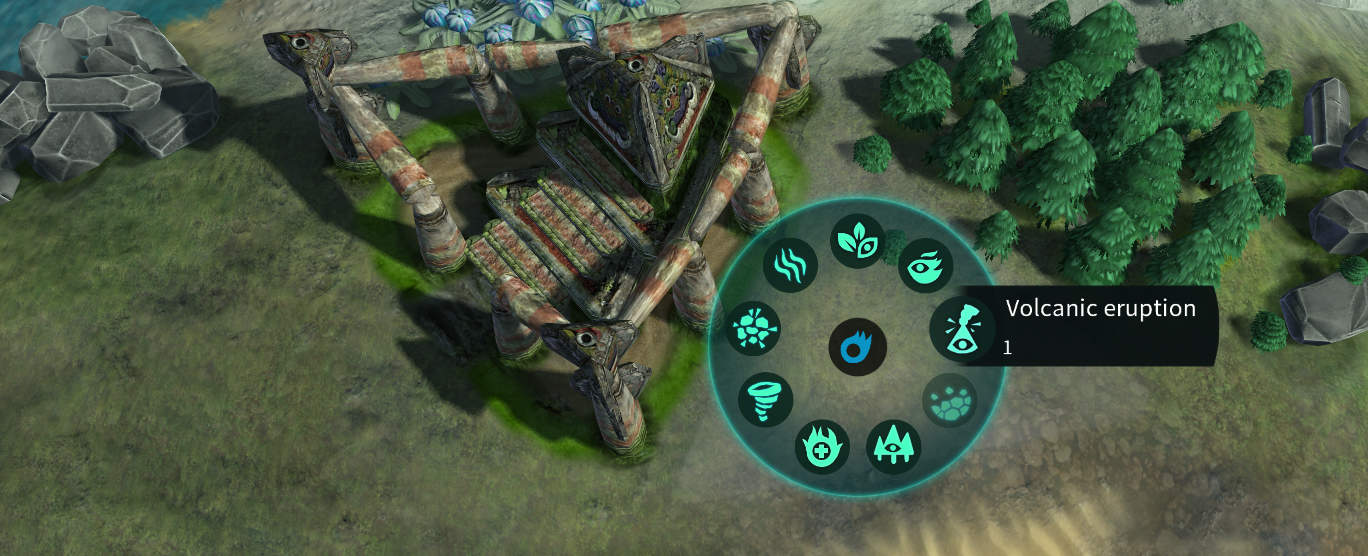 Gaia Forces in Build Ring
You can now access all the forces you have loaded in temples right from the build ring. Therefor we have thrown the forest ring out of the ring menu because you can only build forests with seed bombs from now on and the different types of forest weren't relevant enough for gameplay to take up an own slot in the main build menu.
Drone Priorities
Drones no prioritize open tasks. Dealing with fires is most important, followed by repairing highly damaged buildings. After that they will deal with new buildings and other things. They only return to the city center when they need a package to build something.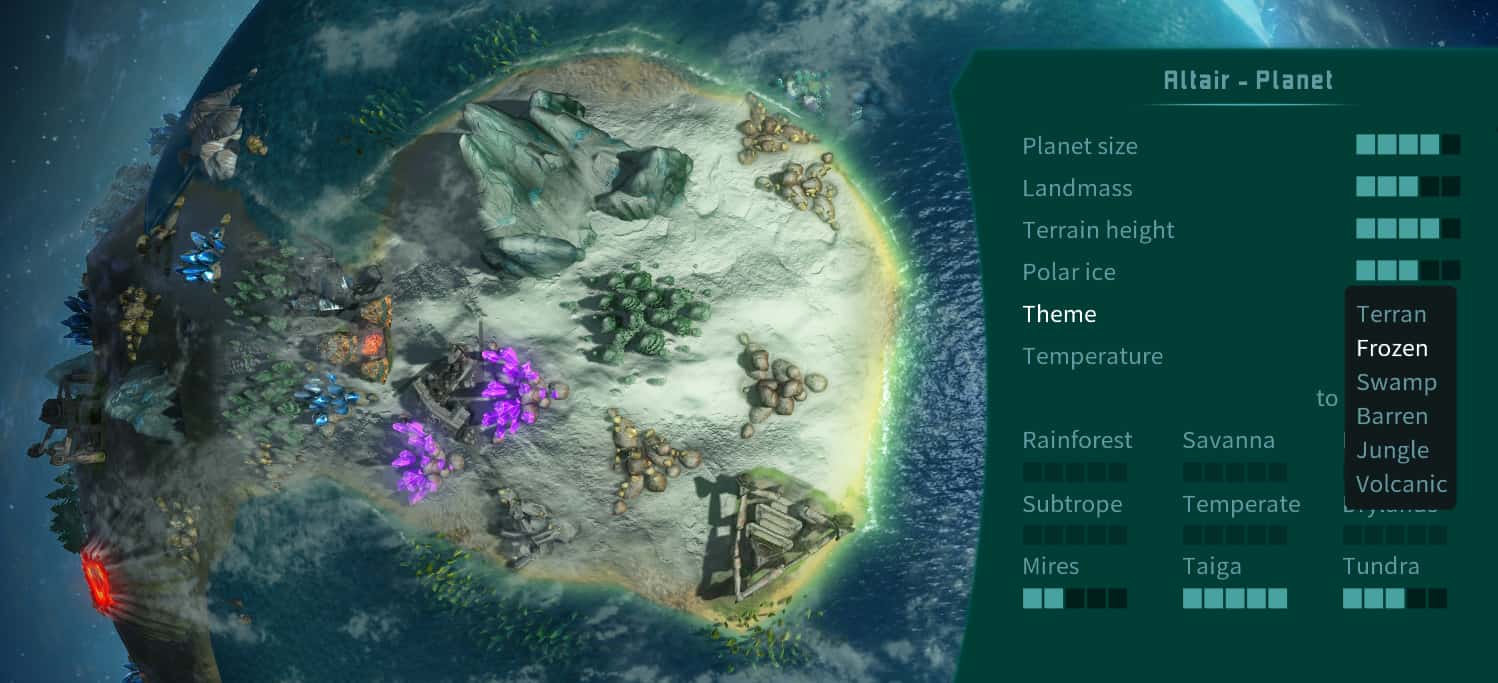 Planet Themes
We have set up six general presets or themes for planets, so you can choose quickly under which conditions you want to play a competition round or freeplay. Choices are Terran conditions, Frozen World, Swamp, Barren, Jungle or Volcanic World.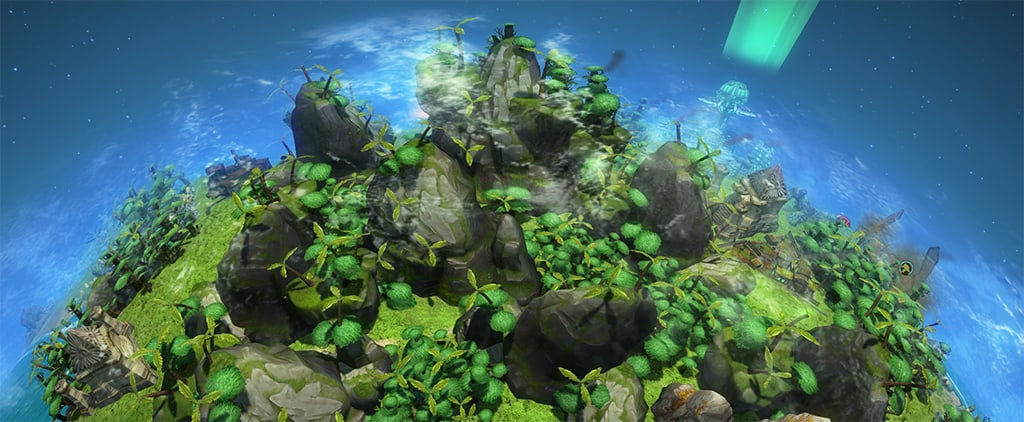 In addition there are new mountain models on many of our planets.
Storytelling
We reworked the first three missions, so that you can play more straight through without being interrupted by dialogs and story suddenly popping up. More story elements are now clickable in form of info and mission icons. So you can start cut-scene when you are ready. On the other hand we made them auto started when nothing was happening story-wise for some time so you don't miss important story elements.
To make the factions more personal we have individual victory messages when others win in competition mode.
Translation
Steam store front has been translated into Spanish
Many new Russian translations for buildings, tools and UI
UI & Graphics
Bookmark panel on the upper right has a special section for dangers now
New panel to display construct and upgrade details on technology screen
New character for the Midras Miner
Visualize fertility influence more clearly
Districts: blue light when level-up possible
Increased display size of warning icons
Reduce snow intensity on streets
Text colors on menu buttons changed so text stays more readable
Added out of money message for multi-upgrading
Progress ring for temple plundering
New landing animation for Leen's ship
Trader Icons darker
Spaceport launch ramp remodeled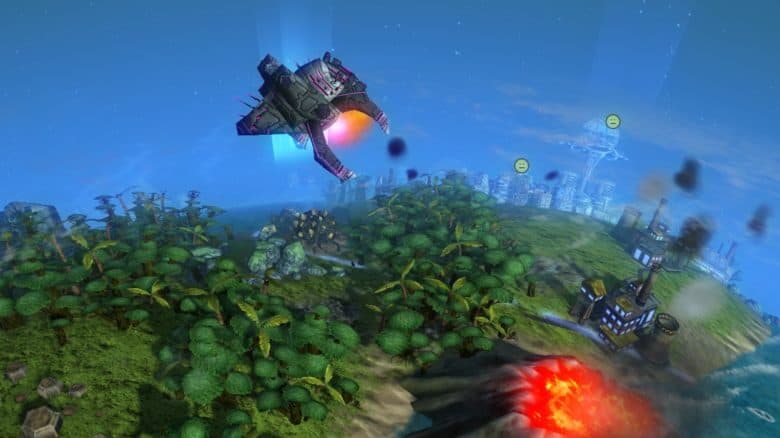 Money Balancing
When you take over an opponents city by buying up his shares you will no longer have to pay an extra money fee for the takeover as you paid for the shares already.
City center takeover only costs shares (no more money)
Rebuilding a city center with a new landing permit is now free of charge because generally you have paid for the landing permit itself or earned it otherwise.
You will be getting more dividend payments out of shares you hold of other corporations to make the feature more relevant.
The emission levy costs for air pollution have been reduced as it was so high that it ate up almost all of the companies profit.
Balancing
New range upgrades for maintenance and remediation buildings
Relocating fishing ships made cheaper
Warehouse: Default storage for energy food and goods is smaller. Reduced price for upgrades
Increase the amount of rare resources on planets
AI should include pollution in field assessment
Glass factory and solar park no longer need 45°C to reach max productivity
Reduced native trade frequency
Reduced Bironix trade favor to 10%
Increased number of science level research goals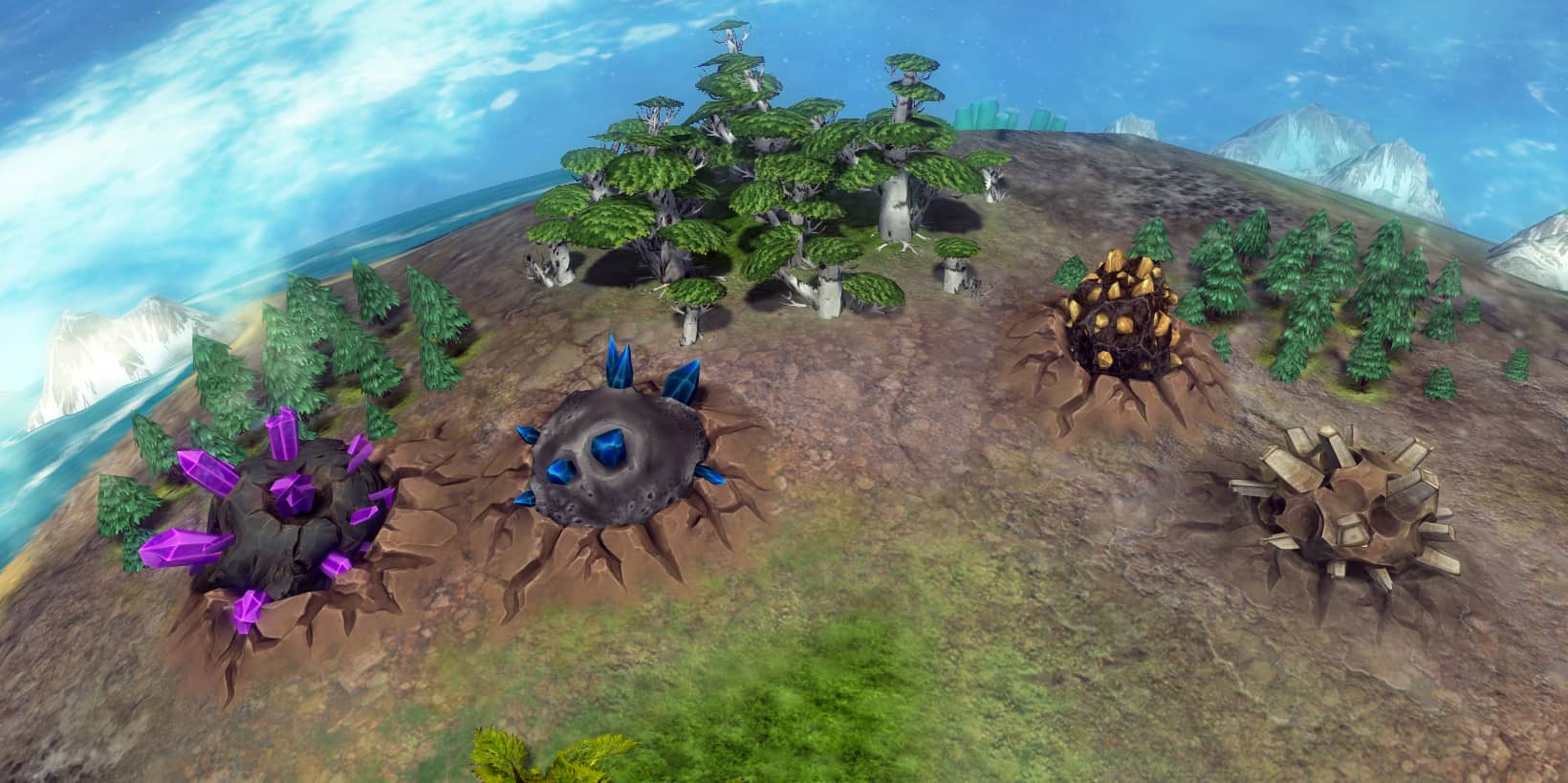 Fixes
Activated desertification (!)
Adjacency bonus for the stone quarry doesn't work if rocks are in the water
Food shortage despite reported overproduction
Remediation does not work on ruin fields
Negative ghost income on startup
Radius of lasers and health districts is sometime incorrect
Black hole on top of small planets (e.g. Tuto)
Fixed 4:3 screen UI problems
Research tool-tips were sometimes partly outside of the screen
Storing mechanic of Lithium not working correct
Midras and natives repair themselves