After releasing Rounos we already received some very intense feedback (which is great!) and would like to share some of the results and lessons we learned.
1. "Imagine Earth is a hard game to master"
We had to learn that mastering Imagine Earth isn't as easy as we thought – obviously it's easy to play your own game since you know everything about it, but this doesn't mean that everyone else does, too.  We received a few messages by people who were really frustrated, because  they couldn't find a way to win Lorian or Rounos and at the same time loved Imagine Earth so much they had to try again and again.
We looked deeper into this and found two big problems we will address with the next update:
The balancing of Imagine Earth currently IS hard!
A solution would be to make Imagine Earth easier, but we know that there are some people out there (including me) that love to beat a really hard game.
So we decided to add 3 levels of difficulty that will vary consumption, production and pollution of all buildings and reduce or increase the probability of events like incidents, twisters, etc.
There is no way to find out what's going on in the global simulation.
This is why we are currently working on a statistic that shows resource production and consumption on a global scale for the different resource types and buildings. This will also make it a lot easier to balance the game.
2. "The art style of the characters is a bit creepy"
How dare you! They are funny and lovely, not creepy… maybe a bit to abstract ;D…
Ok, this is a matter of taste, but some of you are right say that they where a bit too much for them. Because we want to find a look that suits as many people as possible we had a second look at different art styles and decided to keep the comic look, because we love the sympathy that comes with it. What we are changing is that we will add some noses and real eyes so everyone looks more human on Iagine Earth.
Here is a first glimpse at Linda and Dr. Zweistein:
3. "The planets are too small"
The first two planets – Tuto and Joma – are pretty small. Lorian and Rounos are mush bigger, but this is obviously not visible during the first few hours.
To make the different planet sizes more clear from the beginning, we will add a new campaign menu that shows all planets with their relative sizes.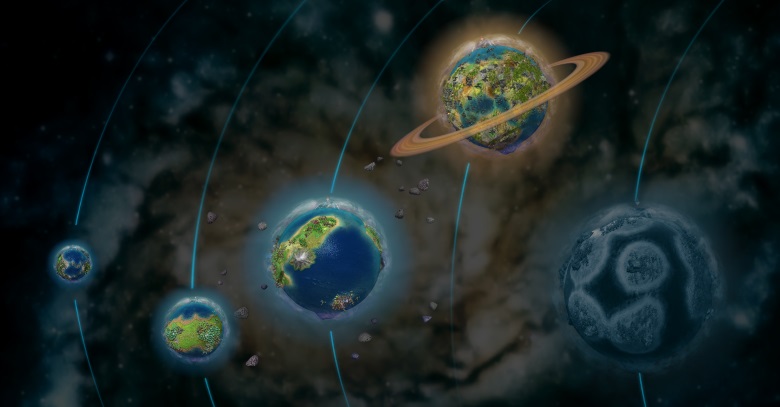 We like to know what you think about these three aspects.
Please send an email to martin@imagineearth.info or leave a comment under this blogpost if you like.