Dear colony managers! You have given us a lot of detailed feedback. With this release we are trying to answer a big part of it – especially the balancing of building upgrades.
TL;DR
You can now claim new territory with money – a new approach to free expansion.
The bookmark panel shows what events and threats are taking place in your cities and allow you to jump to any place directly.
Gaian energy from temples can now be collected and sold in containers. These containers can as well be bought to charge your temples.
Upgrade balancing.
Community translations for Italian and Spanish are complete.
Campaign: Joma, Lorian, Rounos received several improvements and corrections.
Lots of other fixes and changes.
Preview: Harvester drones will collect resources and drop them into the warehouses.
Claim Land
A small feature that might turn out as a real game changer got implemented right now. Did you ever feel upset for having an interesting resource field, some crystals or a strategic construct directly in front of you but on the other side of the build radius border? Now you can easily claim ownership of adjacent fields.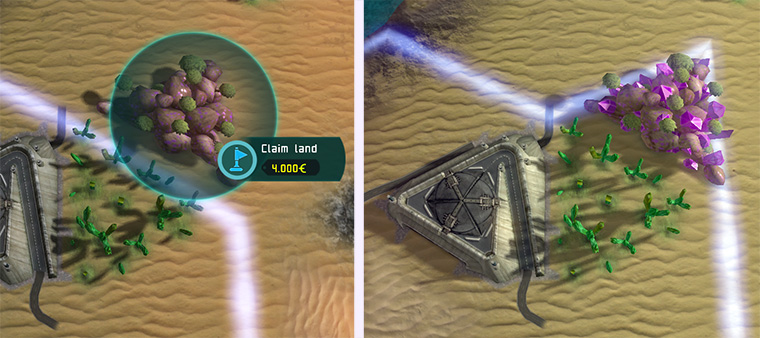 Please be aware, that this land is not protected by city center or tower radius. It can be grabbed by other companies right away. This way of expanding your territory allows you to increase your reach onto something of interest besides the city upgrade logic. Note that you can no longer build buoys or towers outside of your build radius. The "claim land" tool must be research as well and until further testing it stays pretty expensive.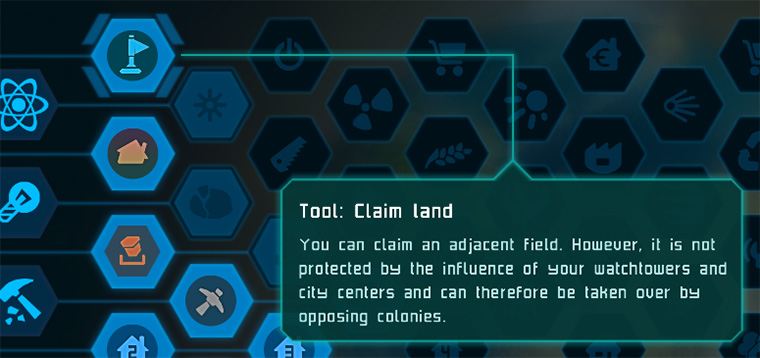 Bookmark Panel
This might not look like much at first sight, but the new bookmarks panel on the top right of the interface are a very powerful tool. It shows all your city centers and important constructs or events around them. For example the space ports you got and if there is a trader or merchant on-site at the moment. It indicates problems and events like low productivity, low building health or incidents, incoming meteorites, wildfires and other threats to your colony. Best thing is, you can directly click each icon to jump to the event immediately.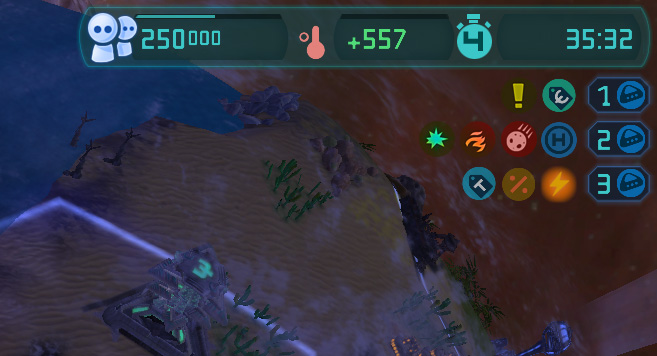 You can also create your own custom bookmarks of any field by holding a certain number key for a second while hovering the intended field.
Gaian Energy Container
The container is charged with gaian energy. This special form of power agglomeration emerges in intensive spheres of lively flora and fauna. Containers can be used to charge temples where gaian energy unleashes specific supernatural forces or they get sold as an invaluable tradable ware.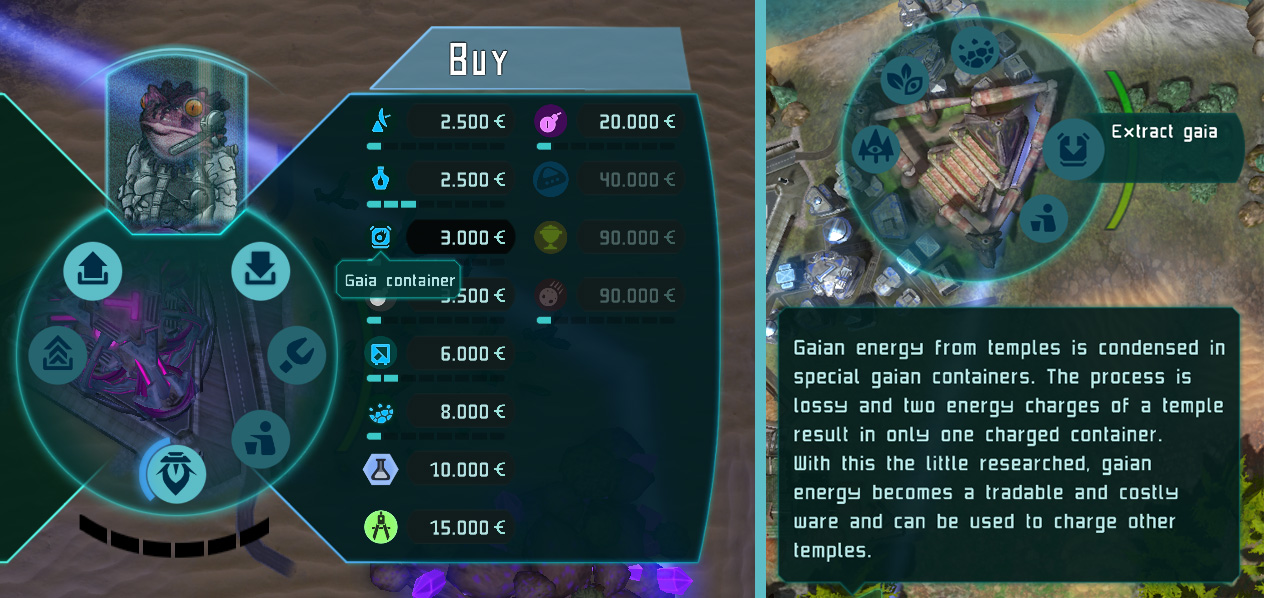 Generated gaian energy from temples can also be condensed into containers. The process is lossy and two energy charges of a temple result in only one charged container. With these containers gaian energy becomes a tradable and costly ware and can be used to charge other temples.
Balancing of Upgrades
Prices fell significantly – mostly into the range of 500 to 800€. For upgrades that increase the production we have made sure that the production to price ratio is slightly better than the one of the original building.
The efficiency (production to maintenance costs ratio) is now also slightly better than the building's original efficiency. For fossil power plants it is in the upper-mid of the "no to full fossils" range.
In addition to this some upgrades have received additional bonuses. E.g. nuclear reprocessing now gives a bonus on produced energy to reflect what is extracted from the reprocessed material.
Community Translation
This is working out much better than we expected.
We got some great fans out there who were so kind and excited to translate Imagine Earth into Italian and Spanish language. Thanks a lot to Capybara Localizations and Laura Alba for the awesome work!
In addition there's a huge rework of the English version going on as well – done by Andrew "Althis" Quadro and Arthur "Skirlasvoud" van der Burgh 🙂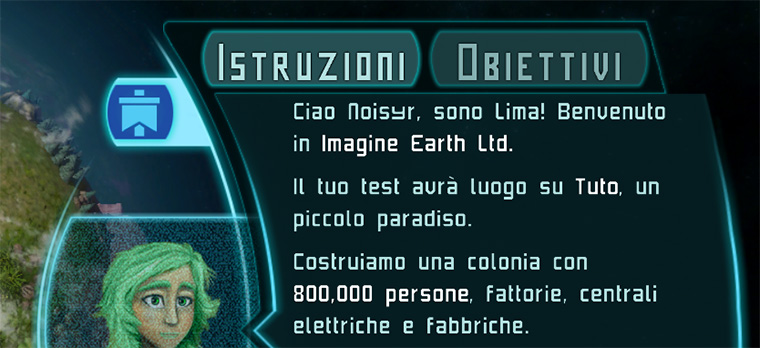 If you find a typo or a some mistakes in texts or dialogs it's now pretty easy to report them. Just open the "Last Message" panel (left icon at the bottom) and you can see the name of the dialog in the lower right corner of the dialog.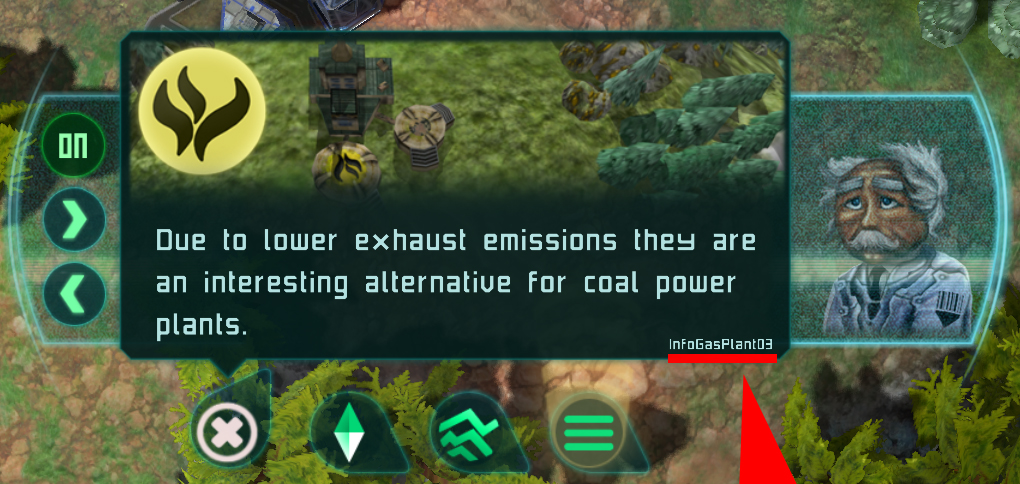 Mission Improvements
JOMA
Many small improvements to goal and mission design.
LORIAN
The side quest introducing the Midras race is working again.
The side quest about the oil spills in slick bay is back in game.
New Mission Icons will guide to objects and buildings when the bonus or mission goal is connected to any units on the planet.
Main mission growth goal reduced to 2.5. million people.
ROUNOS
Fixed: In some cases Joe wasn't reaching the 2 million people growth goal at all. The goal is reduced to 1.8 million people.
Fixed: The Natives where not selling their ideon treasure maps correctly.
Further fine tuning to the mission script
Graphics Improvements
Construction Drones now have contrails and jet sounds
Some nicer trees
Added some wonderful planet textures
Other stuff
Hovering a laser now highlights the complete area protected by laser cannons. Same for pulse cannon and shield
Stone quarry now also gets a bonus form nearby mountains
Fixed wrong numbers in rare resource production statistics
Fixed Inventory ring graphic problems
Fixed inconsistent icon colors for upgrades, buildings and research
(hopefully) fixed sound noise problems
Fixed city naming dialog cancel problem
Fixed planet texturing problems in medium shader quality
Fixed "more than max ideon" problem
Harvester Drones
To thank you for your interest in our update and reading all the way down here, we wanna give a short glimpse into future development. Here you can see harvester drones that will pick up all the stuff in the future. You can staple them on your warehouses which are used as the drone's home base.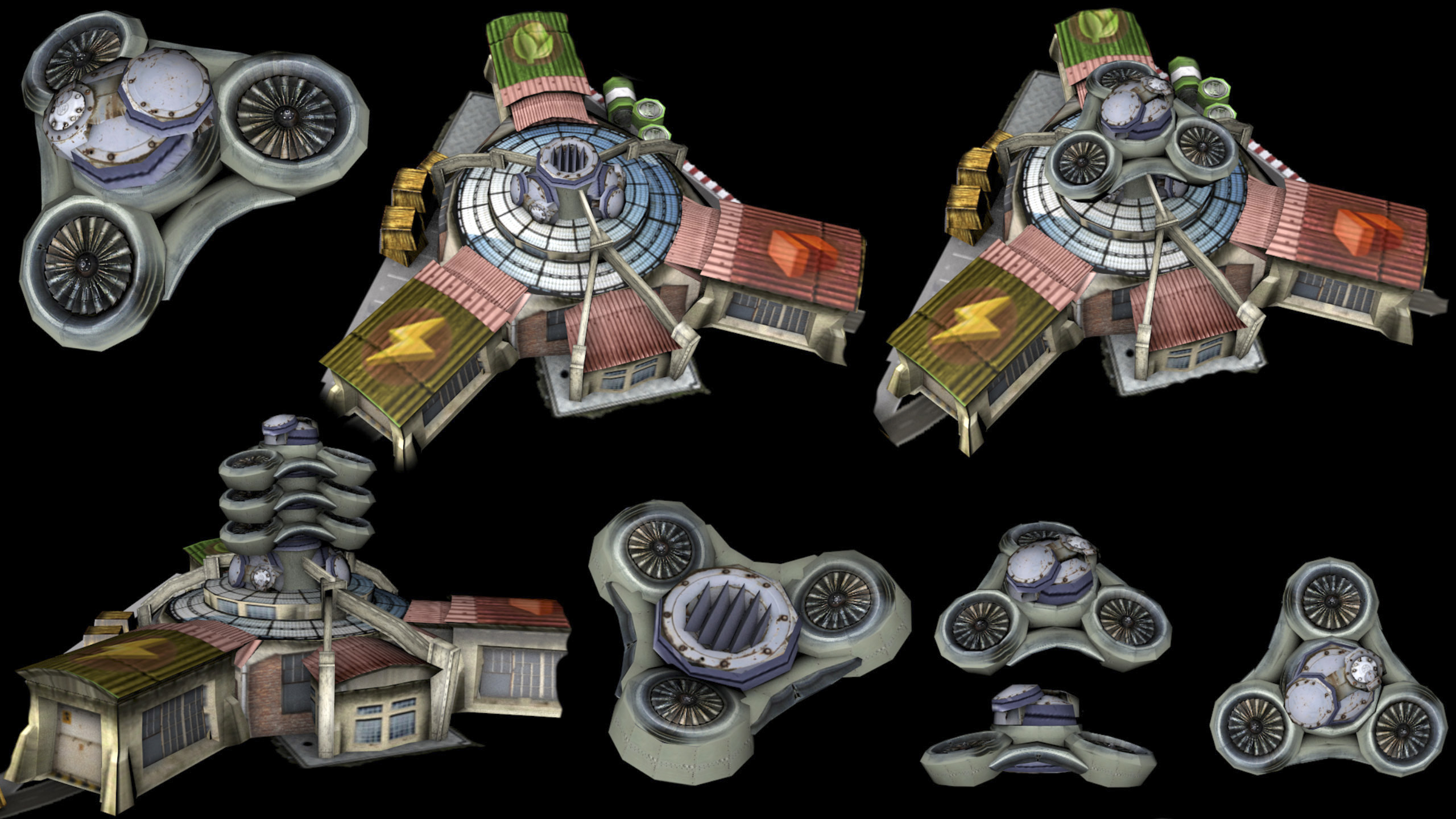 Let us know what you think about the new stuff and if you have any feature requests. You're welcome to share your ideas for the project in the Imagine Earth forum on steam! Regards, Martin & Jens