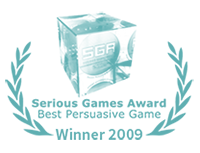 We did it! Yesterday the Serious Games Award was awarded at the Cebit in Hannover. We are proud to say that Imagine Earth won the category "Persuasive Game". Even though Florian had left us and the development of Imagine Earth almost a year before we invited him to join us and went on stage together to celebrate this.
The category Persuasive Game awards games that communicate and explain ideas and in best case convince about them. They motivate to stand in for something, move the public opinion towards an issue or even change the view of the world.
It seems we really have managed to let Imagine Earth communicate some of our ideas and ideals. Thanks to the jury, the organisers and especially the donors!