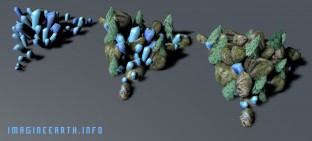 The idea about these precious crystals is that you have to find them and dig them out of rocks first before you can also choose to can sell them on the intergalactic market for development tokens or you choose to
keep them on the surface.
The corporation will reward you for serveral crystals with a career key on each mission end. The problem would be enticed to flog them the whole time…
What do you think about the game element? Would you be excited about the playfulness of this game element and the additional challenge or would you rather prefere concentrating on building and organizing your cities?