The Serious Bros. are around since 2014. Our studio was primarily founded by Martin Wahnschaffe and Jens Isensee for the ongoing development of our planetary colonization game Imagine Earth. The game is in Early Access and over 30.000 supporters so far made development sustainable. 110.000 wishlisters on Steam raise our hope for a successful PC release that is planned for Q4 2020. We are also considering funding to release on consoles and making full force marketing. Of course the project was always accompanied by various side projects, game jam products and interactive art installations based on game engines.
Projects
Contact
Contact us simply and directly info@imagineearth.info
We are looking forward to hearing from you and will respond asap!
Main Mission Objective
The game concept and simulation of the Imagine Earth project is designed and expanded in constant consultation and discussion. In such a small team everyone has a lot of specialized tasks. Jens is responsible for 3D objects, interface design and artwork, while Martin does the programming and keeps an eye on the project structure and organization.
Meanwhile, the game on Steam's Early Access platform has been well received by supporters, helping to fund ongoing development. The game already includes a 100% playable campaign, but will be enhanced with additional game modes and features. We are happy to hand over any additional work such as sound design, press work and website programming to external employees.
Jens Isensee
Managing Director – Art and Design
Jens Isensee is a multimedia designer and artist. In addition to Imagine Earth as his main project, he works on interactive video installations, which are often virtual reality environments that the player can enter and experience body and motion tracking. This long-term work in the border area between communication design and media art finally brought him to this unusual game project, as it always had to do with 3D design and engine modding. He is motivated by the ever-increasing topicality of the project and its critical background theme of climate change. "In our game production the way we want to live is put to the test, the concept of sustainability can be experienced in the rapid progress of the game. Nothing saves the player from the consequences of his actions in the closed ecosystems of Imagine Earth".  An extensive listing of his other projects can be found at jensisensee.de
Martin Wahnschaffe
Managing Director – Technology and Organisation
Martin is a programmer and has been enthusiastic about game mechanics for quite some time now. He brings these experiences together with his Master in computer science and many years of experience in the software industry, working as a software designer and project manager. He is well prepared for the venture in "Imagine Earth" to simulate a complex ecology system in which AI controlled opponents react to the player's strategy to create an extraordinary experience".
External employees
Philipp Preuß
Music Composition, Sound Designer
Philipp Preuß studied media sciences and media technology at the HBK Braunschweig and TU Braunschweig with a focus on film and gamesound. During his studies he was responsible for the teaching and administration of the digital sound studio of the HBK Braunschweig. Since his graduation he has worked as a freelance sound designer (e.g. Filmfest HFF Potsdam, TU Braunschweig Institut GTAS), musician (e.g.: Ritz Carlton Wolfsburg, Jazzclub Bayerischer Hof Munich), media consultant (e.g.: Volkswagen AG Zukunftsforschung und Trendtransfer) and scientific author (current publication: Preuß, Philipp (2013): Alien Sounds. Sound design and technological sound alienation in science fiction film. AV Akademikerverlag).
Clemens Haug
Press and Media Relations

Clemens Haug, * 6 November 1981 in Stuttgart, studied political science, cultural studies, sociology and journalism in Bremen, Bath and Leipzig and currently works as a freelance journalist. His texts have appeared in the Süddeutsche Zeitung, the tageszeitung (taz) and the Frankfurter Allgemeine Sonntagszeitung. In the Imagine Earth project, he would like to focus primarily on press and media relations. The game and its message should be made known to as wide an audience as possible. Media partners must be found and involved. Clemens Haug believes that the Imagine Earth project has good chances in public discourse.
Florian Engler
Web Programming
2011 – 2015 Freelance Software Developer (Web Applications). 2007 – 2011 Studies – Applied Computer Science (Bachelor Degree) Berlin University of Applied Sciences. 2005 – 2009 Student Trainee System Administrator Pinguin AG Berlin2005 – 2007 Studies Information Technology / Networked Systems University of Applied Sciences Berlin. 2004 – 2005 KIM Berlin technical secondary school (vocational baccalaureate). 2004 Internship Information Technology / Network Technology NET Consulting Munich. 2001 – 2003 Training – IT-System & CAD GmbH Landsberg. 1999 – 2001 Training – Assistants for Information and Communication Technology Technical Academy Isny
Studio History
The company was founded by Martin Wahnschaffe and Jens Isensee in mid-2014 in Braunschweig, Lower Saxony, Germany. The two have been working with enthusiasm on this game project for several years. What started as a student project is based from the very beginning on a unique game concept and an environmental theme, which has steadily increased in relevance over the years. It also deepened the working and friendship relationship between the two founders, and follow-up projects have long been waiting patiently in the drawer.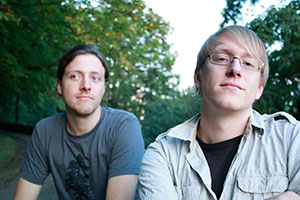 The game project "Imagine Earth" gained in professionalism and complexity over the development period and the long-term motivation was accompanied by many small successes and already two award wins. In 2015 it won the Golden Sparrow in the category "Best Indie Game". In 2012, the "Intel Level Up Award" was presented for the best simulation game demo and the "Serious Games Award 2009" from Normedia was presented for the concept at CeBIT. The game is now available on Steam "Early Access" and contains an already 100% playable campaign.