Hello, Press, Youtubers, Streamers and Co. Thanks for checking out our Game! Create any videos and content you want. Here's how to get review keys…
Videos
Feature Trailer
More Videos
English Game Play made by Splattercat 26:00
German Game Play and Interview made by Writing Bull 50:00
German Gamescom Indie Arena Trailer 0:30
---
Promotional Graphics & Titles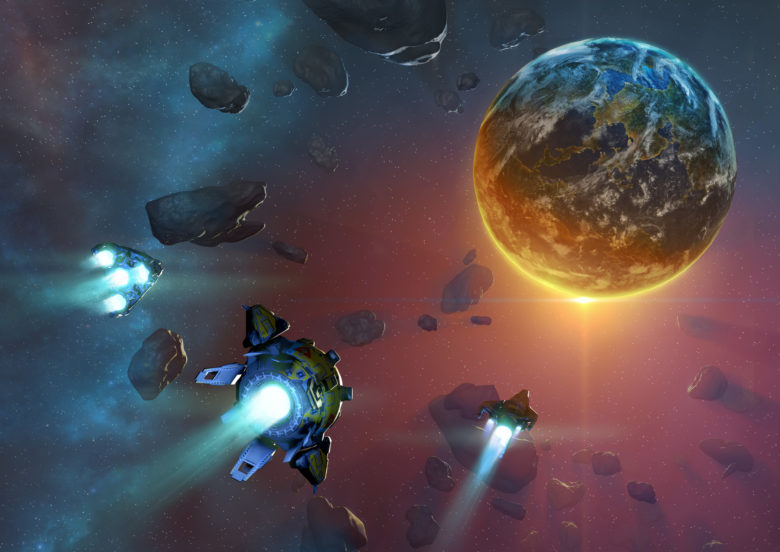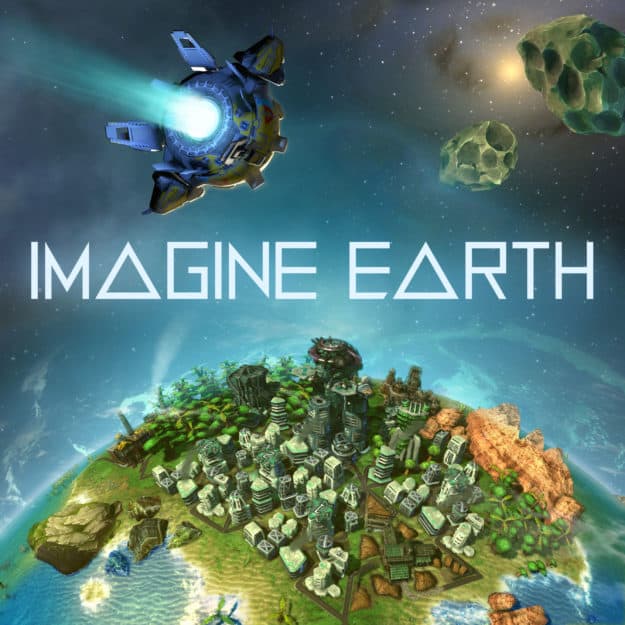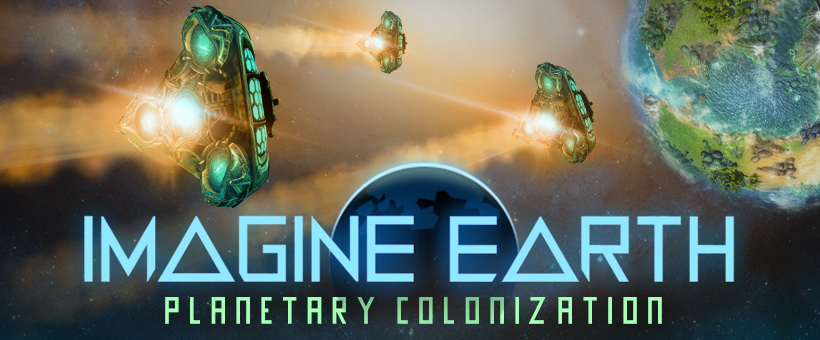 Screenshots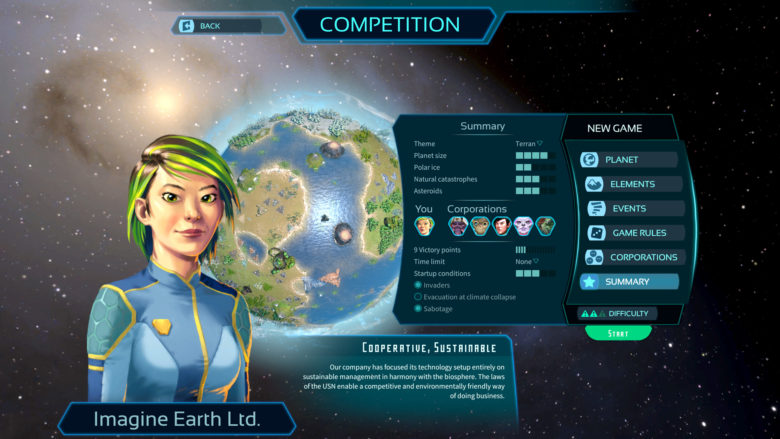 All Game Facts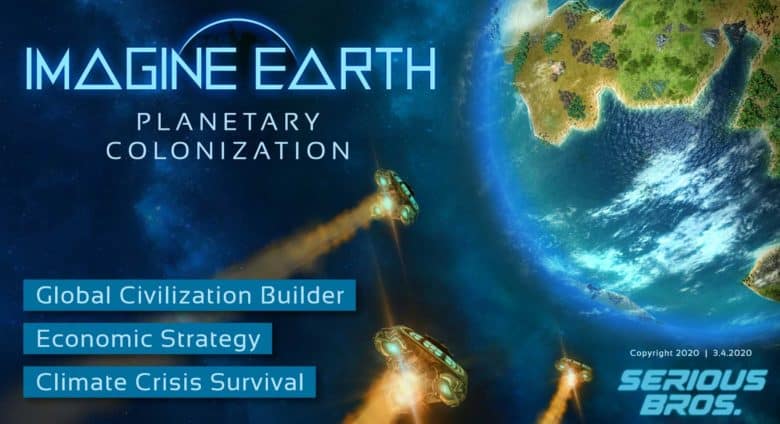 All important facts and details about Imagine Earth summed up in a visually appealing highres PDF file ( 15 MB ).
Artwork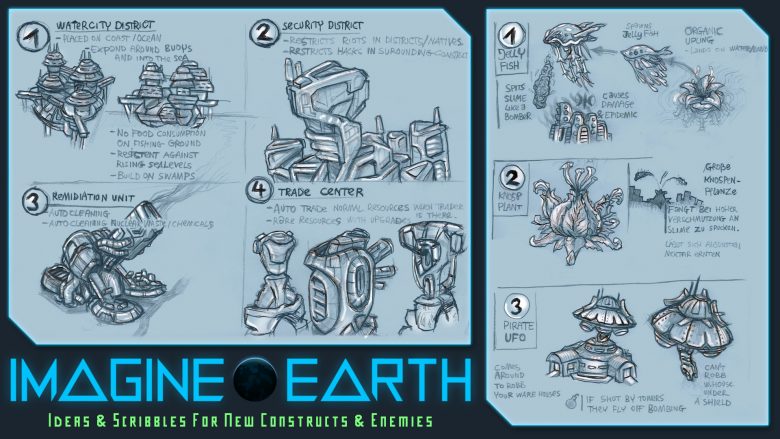 Logos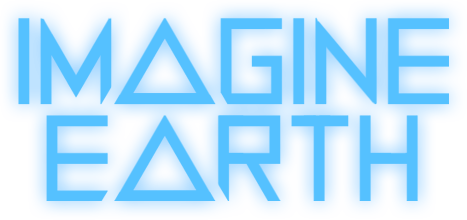 Gameplay
Planetary Colonization
Imagine Earth is a real-time planet simulation and a build up strategy game. Your job as a space colony manager is to explore and populate distant planets. Build up thriving and profitable colonies on a global scale and trade resources and goods into space.
Expansion & Research
Raise great cities and satisfy their appetite for resources by building power plants, farms and factories. Dig for ideon crystals, pacify riots, research technologies and constructs and maximize your growth while maintaining a healthy ecosystem.
Allies, Threats & Enemies
Get ready to deal with threats like asteroid strikes, twisters, wild fires, volcanoes and rising sea levels. Fend off space raiders and alien investors. Coexist and trade with natives, merchants and hostile colonies.
Story
From the wild and unregulated Markets of the 21st century emerged giant powerful corporations. Their unrestrained struggle for market shares left Earth exploited. The age of planetary colonization begins as the discovery of ideon crystals allows journeys into space, while technologically and ideologically almost everything remains the same. Only expansion to outer space could preserve the dogma of unlimited growth. The rival corporations hired settlers for a merciless rat race to space. The laws of the market are being spread into the last corner of the universe.
Competition and Economic Warfare
On each discovered planet a competition for economic dominance breaks out. To expand your colony as fast as possible and overcome your opponents you exploit the freely available fossil resources and minerals. Additional money is provided by selling shares of your colony. Take over opposing companies by buying up their shares.
Trade Resources and Technologies
Merchants and technology traders organize the interplanetary trade and will happily buy all minerals and resources you extract from your territory while selling expensive technologies. The same goes for cooperating colonies and alien tribes that live on some of the planets.
Growth vs. Ecocide
You will experience a massive conflict between the profit goals of the interstellar corporations and the need to preserve living conditions for your people. Exhaust emissions and ground pollution impact the global climate as your colony is growing. Increasing temperatures melt down polar caps and your colonies are destroyed by rising sea levels.
Features
Global and real-time world experience instead of playing on limited square maps.
Fully playable and story based campaign with 7 planets / missions.
Freeplay mode with a procedural planet generator for endless worlds and challenges.
Competition mode for matches against up to 4 AI corporations per planet.
Planet Editor for terraforming, building and customizing individual planets which can be saved and shared.
Development of over 30 colony buildings with individual upgrades.
Global simulation of local pollution and worldwide emissions.
Threats and disasters: Chemical spills, oil slicks, radioactive contamination, wild fires, tornadoes, volcanoes, dying forest and growing deserts, alien and robotic invaders, etc.
Melting polar caps will raise sea levels and flood your coasts in case of global warming.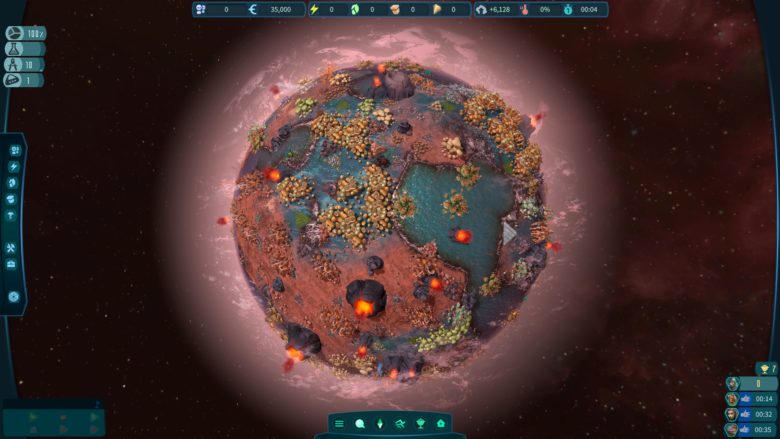 Awards and Events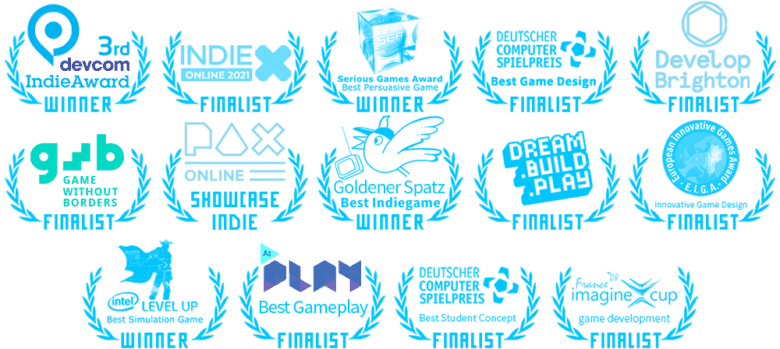 Devcom Indie Award – 3. Winner – Online 2021
Indie X Award – Finalist – Lissabon 2021
Games without Borders – Finalist – ( Ongoing ), Online 2021
PAX Online Indie Showcase – Official Selection – Online 2021
Brighton Develop / Indie Contest – Finalist – Brighton, UK 2021
XDC Contest Canada – Finalist – Online 2020
TheMix Top 40 – Official Selection – Gamescom 2019
Deconstruction Workshop – Winner – White Nights, Berlin 2019
Indie X Award – Finalist – Lissabon 2018
AzPlay Award – Finalist 'Best Gameplay' – Bilbao 2017
Deutscher Computerspielpreis 2015 – Finalist 'Best Game Design – Berlin
Goldener Spatz – Winner 'Best Indie Game' – Erfurt 2015
Intel LevelUp Award – Winner in 'Best Simulation' – Online 2012
Microsoft Dream Build Play – Finalist 'Xbox 360 Dev' – Online 2012
Deutscher Computerspielpreis – Finalist 'Student Concept' – Berlin 2010
European Games Award – Finalist 'Newcomer Award' – Cologne 2010
Serious Games Award – Winner 'Persuasive Game' – CeBIT, Hannover 2009
E.I.G.A. – Finalist 'Innovative Game Design' – Frankfurt 2009
Imagine Cup – Finalist 'Game Development' and featured presentation in the Caroussel de Louvre, Paris, France 2008
History
of the Imagine Earth Project

The company was founded by its two members Martin Wahnschaffe and Jens Isensee in 2014 in Braunschweig, Germany. They work together on this independent game production for several years now. It has started as a student project long ago and evolved over the years into a more serious working relationship and even deeper friendship. After being a side project for the time of our studies and the beginning of working life it became more serious. We started to focus on this and future projects.
The growing ambitions and complexity of the game project were already accompanied by two prices. The Serious Games Award 2009 and Intel Level Up Award 2012 for the best simulation game demo and several nominations as motivating events that made us carry on. And so did our idealism about this environmental-minded game.
Special Thanks
Special thanks to all who helped us! For example Stefan Ewald – title music | Philipp Preuss – trailer music 2013 | Celi – voice acting trailer 2013 | Timo Schramm – music for Tuto | Terence Goodchild – music for Joma | Ed Curtis – english translation | Florian Mätschke – started the project with us once.
Contact
Get in touch personally!
Just drop us a mail at to info@imagineearth.info
and we will get back to you as soon as possible!